This September, three international students under the SAJOREC Education Programme, Raphael Ohuru Nyaruaba, Richard MIND'JE, and Veronicah Mutele Ngumbau are awarded Excellent International Students of the Year by the University of Chinese Academy of Sciences (UCAS).
Excellent International Graduate
Raphael Ohuru Nyaruaba
"I would like to become a professor and head my own research group in Kenya. I would love to partner with my previous institution and SAJOREC to perform joint collaborative research in priority infectious diseases of African origin.
Since WIV has an excellent biosafety capacity, I dream to partner with them to help my country develop similar BSL-3 and BSL-4 capacities. Towards all these goals, I hope and plan to mentor students so that I can pass the knowledge and experience I have gained to young and growing talents from Kenya, Africa, and the World at large."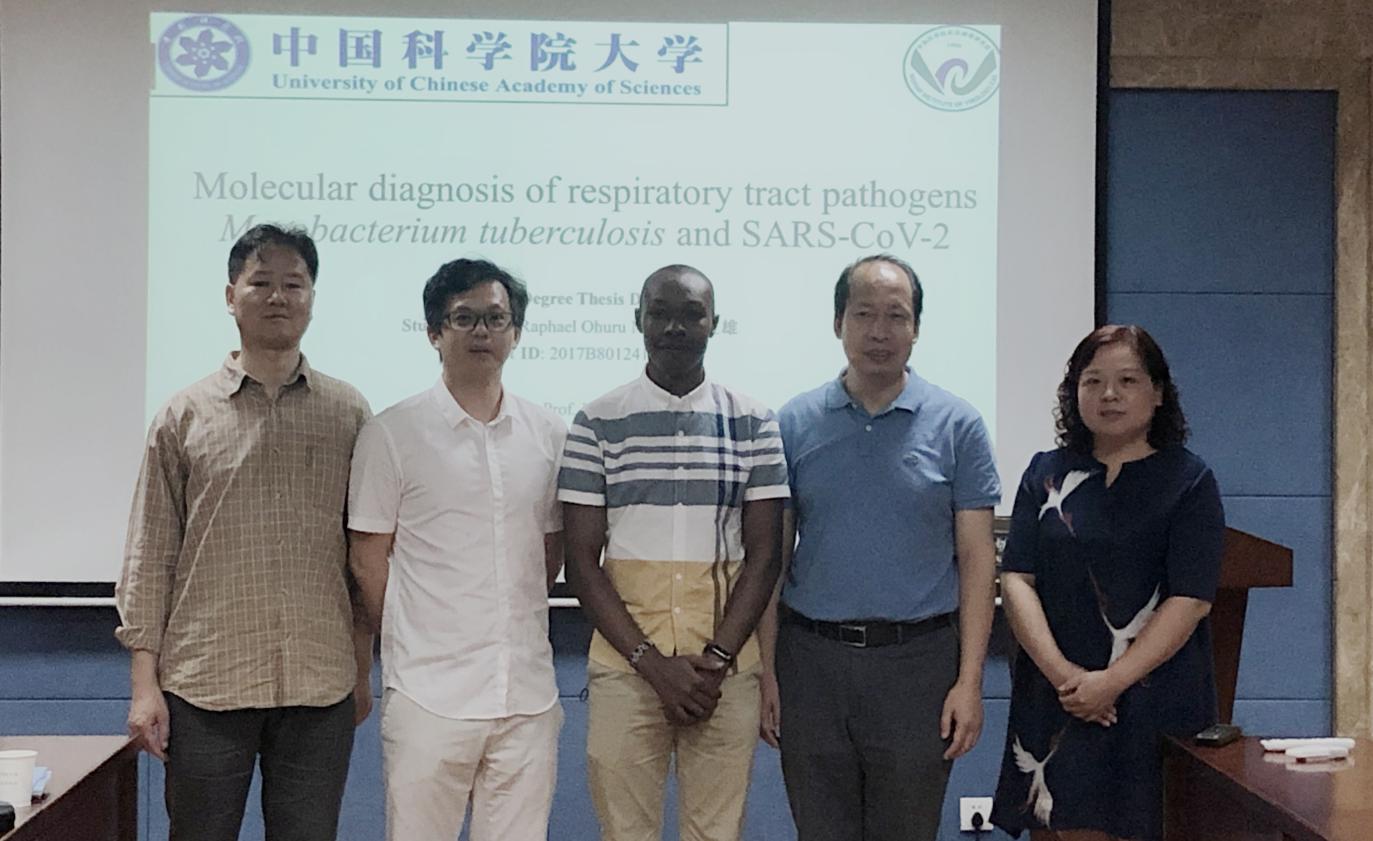 Raphael (middle) with his supervisors (Image by SAJOREC)
Raphael Ohuru Nyaruaba is from Kenya. He is just named the UCAS Excellent International Graduate of 2020 this September and has now begun his doctoral studies and research.
Rapheal was one of the many young African talents who got the chance to study and conduct research in Chinese Academy of Sciences, the top S&T research and development organization in China. In 2017, after careful preparation and application through the Sino-Africa Joint Research Center (SAJOREC) Education Programme, Raphael was successfully admitted to Wuhan Institute of Virology, Chinese Academy of Sciences (WIV, CAS) as a master's student.
In Raphael's thought, he got to know the significance of biological safety and greatly inspired his love of microbiological research. "UCAS is the place where I got to understand and explore the beauty of science. Before starting my coursework, I was a young and naive scientist. My knowledge and skills were rough. In Beijing during my coursework, I got introduced to the different facets of science by experts in different fields. This woke my curiosity and I worked hard to grasp every tiny bit of knowledge I could. I excelled in the different courses and passed exceptionally in all my academic tests. This passing allowed me to join my prestigious institute Wuhan Institute of Virology to sharpen my practical skills."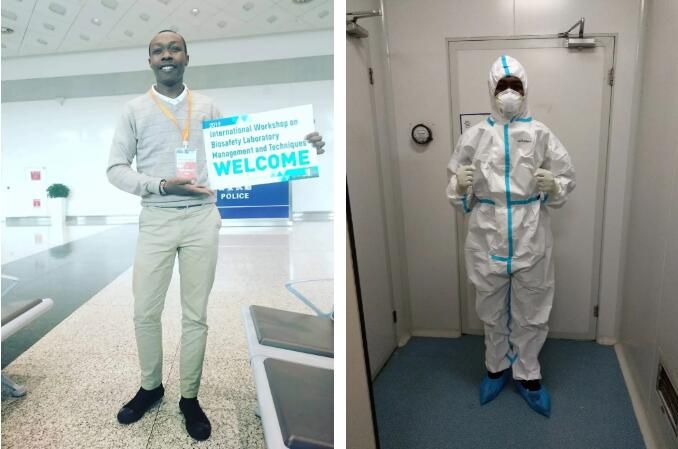 Raphael at Wuhan Institute of Virology (Image by SAJOREC)
Raphael's research interests include molecular diagnosis of biosafety level 3 respiratory tract pathogens tuberculosis (TB) and severe acute respiratory syndrome coronavirus 2 (SARS-CoV-2). After three years of hardworking, Raphael not only achieved excellent academic results, but also published a number of research papers. Raphael realized his dream of acquiring advanced scientific and technological knowledge, and he also learned from the rigorous, persistent and selfless spirit of the Chinese scientists.
During the outbreak of COVID-19 in Wuhan, Raphael and researchers of Wuhan Institute of Virology worked together in the front line of epidemic prevention. The team quickly identified the pathogen type and formulated the detection plan. In a nutshell, they have contributed a lot in preventing the spread of the Novel Coronavirus.
Excellent International Graduate
Veronicah Mutele Ngumbau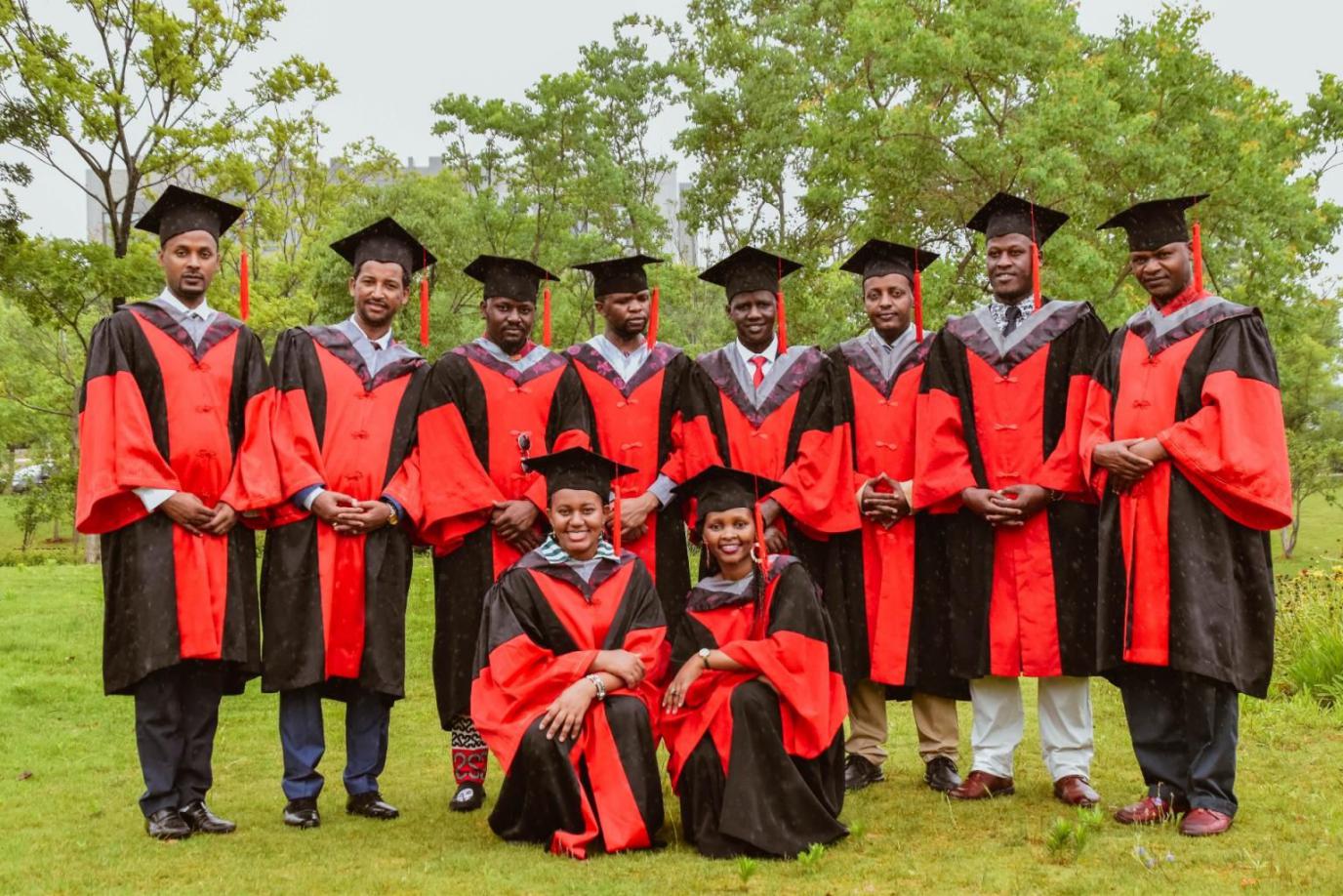 Veronicah (right of front row) (Image by SAJOREC)
Veronicah Mutele Ngumbau enrolled in Wuhan Botanical Garden (WBG), Chinese Academy of Sciences in 2014 through the SAJOREC Education Programme. With a keen interest in Botany, Veronicah conducted a comprehensive inventory of plant richness and phylogenetic diversity of the coastal flora in East Africa's coastal forests under the guidance of her supervisor at WBG.
In 2016, Veronicah passed the doctoral examination and became a PhD student at WBG. In the same year, Veronicah attended the 8th China Symposium on Ethnobotany, namely, the 7th Asia-pacific Ethnobotany Forum and delivered a speech. She stood out from more than 100 young scholars and won the Award of Excellent Paper of the Symposium.
Veronicah was diligent and successfully finished her doctoral degree. Her passion for research, proficiency in professional knowledge and excellent scientific research achievements were highly praised by the academy defense committee members, and she was awarded 'Excellent International Student of the Year' in 2020.
Excellent International Student
Richard Mind'je
Richard Mind'je (Image by SAJOREC)
As China's top S&T research institution, the Chinese Academy of Sciences enjoys a good reputation worldwide. Richard Mind 'je, a first-class bachelor from University of Lay Adventists of Kigali, Rwanda, has long heard of it. In 2017, Richard successfully applied his master's degree through the SAJOREC Education Programme for the Xinjiang Institute of Ecology and Geography (XIEG), Chinese Academy of Sciences.
"My objective after my studies in China is nothing other than 'knowledge transfer'. With the gained scientific knowledge and abilities in China, I hope to be able and ready to take goals by providing any needed support either to academicians, the government and the community worldwide and contribute to the welfare of my country.
In short, from the study in China, I have gained more basic knowledge of multiple disciplines as well as a certain level of research ability. Chinese Academy of Sciences offers the best possible opportunities to acquire leading edge knowledge and later contribute to future development.
Therefore, from my personal experience, I invite young talents from Africa to join Chinese Academy of Sciences through the Sino-Africa Joint Research Center that serves as the platform and bridge of scientific cooperation between Chinese and the African scientists to gain more knowledge, ideas, problem-solving skills and strong research ability from China that will help enhance the institutions and educational systems of their home countries."
Richard's research interests are the application of remote sensing in the field of Natural hazards and Risk analysis. During his study, he and his tutor conducted geo-hydrological hazard and risk perception analysis of floods and landslides in Rwanda, and he has published two first-author articles. In 2019, Richard was awarded the Excellent International Student of The Xinjiang Branch, Chinese Academy of Sciences, and was named UCAS Excellent International Student of the Year for two consecutive years in 2019 and 2020.
Richard is enthusiastic and cheerful, and full of curiosity and energy to explore the unknown. Good teamwork ability, consistency, strong initiative, and his determination to overcome difficulties drove him to maintain his high performance, which was also the key to his success. At present, Richard has successfully started his doctoral study, he hopes to use his knowledge to serve the development of his country in the future.
Sino-Africa Joint Research Center (Image by SAJOREC)
Under the UCAS and ANSO scholarship programme, SAJOREC started recruiting African students since 2013. So far, there are 222 young African talents who came to China and study in the fields of Botany, Ecology, Microbiology and others, covering countries like Ethiopia, Rwanda, Kenya, Madagascar, etc.
SAJOREC innovatively adopts the dual tutorial system, i.e., the Chinese tutor mainly guides the research work and daily management and the African tutor, who carries out cooperative projects is responsible for guiding the field work. The combination not only embraces rich knowledge and advanced technology from China, but also give more opportunities for international students to face more direct appeals and immediate problems in their local community.
After 3 to 5 years' professional training and practice, graduates can hold important positions in universities, research institutions, farms and other units or departments in their own countries. These talents will bring more strength and resources to local agricultural development, ecological and environmental protection and other livelihood issues, meanwhile, enhance the local higher education quality, so as to nurture more talents and form a virtuous cycle of sustainable development.
Excellent Int'l Student/Graduate over the years
2015-2016 Erick Amombo Awarded by the Chinese Scholarship Council
2016 Teresiah Muciku Mungai Awarded by UCAS
2017 Andrew Wanyoike Gichira Awarded by UCAS
2018 Saina Josphat Kipng'etich Awarded by UCAS
2019 Richard Mind'je Awarded by UCAS
2020 Veronicah Mutele Ngumbau Awarded by UCAS
Raphael Nyaruaba Awarded by UCAS
Richard Mind'je Awarded by UCAS