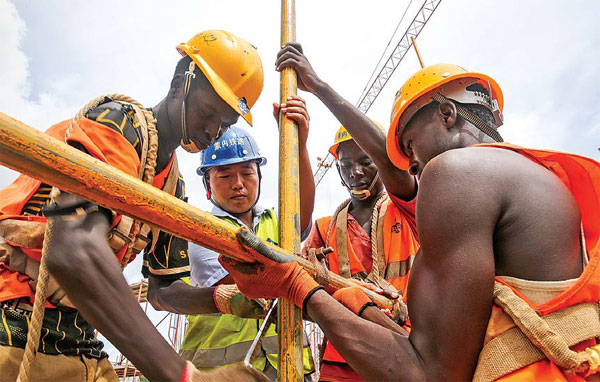 Kenyan workers and Chinese engineer Zhang Qingchun work together on construction of the railway between Mombasa and Nairobi in Kenya. Pan Siwei / For China Daily
What started as a collaboration between Robert Gituru, an associate professor in Botany at the Jomo Kenyatta University of Agriculture and Technology, and Wang Qingfeng, deputy director at the Wuhan Botanical Gardens of the Chinese Academy of Sciences, led to further collaboration between their two institutions.
This led to China and Kenya setting up the Sino-Africa Joint Research Center, a Chinese-aided project in Kenya that was opened in 2012. It was equipped with modern research equipment with the help of China.
Gituru, the director of the center, said the major benefit of collaborating with China is the fact that they engage as equals and peers. He added that China's advanced technology and research is of great benefit to Kenyan students and has helped solve some challenges facing farmers in the country. This includes farming in Kenya's arid north and getting good yields with scanty rain and introducing farmers to crops like grapes which are not traditionally grown in the country.
"Our biggest pride is the fact that we are able to train new scientists and by collaborating with China, we get the opportunity to expose them to advanced technologies and methodologies. We believe that without nurturing new talent and training new scientists, the future of research in this country is very bleak," Gituru said.
He added China-Africa cooperation in research has changed the way Africans consider collaboration. This is because unlike Western countries, China not only values their knowledge but insists the knowledge gained be used to solve African problems.
"One of the challenges we have faced in the past is the fact that we send people overseas for training but they end up being trained in fields that are not relevant to the problems we are facing back at home," Gituru said.
"Our collaboration with China addresses this because all the students we send to study in China have to come back home to do their research before going back to complete their studies. By ensuring the research work is done at home, we are able to use the skills acquired to solve local problems."
He said this arrangement has helped solve the problem of brain drain where students who study abroad end up remaining and working there. Looking at the way forward, Gituru said the center is already spreading its wings across the continent and aims to create a continent-wide network of collaborating scientists.
So far, the center has discovered and named six new plant species and one animal species that were previously unknown. It has also produced more than 60 academic research papers which have been peer reviewed internationally and published in scientific journals. (From Chinadaily)