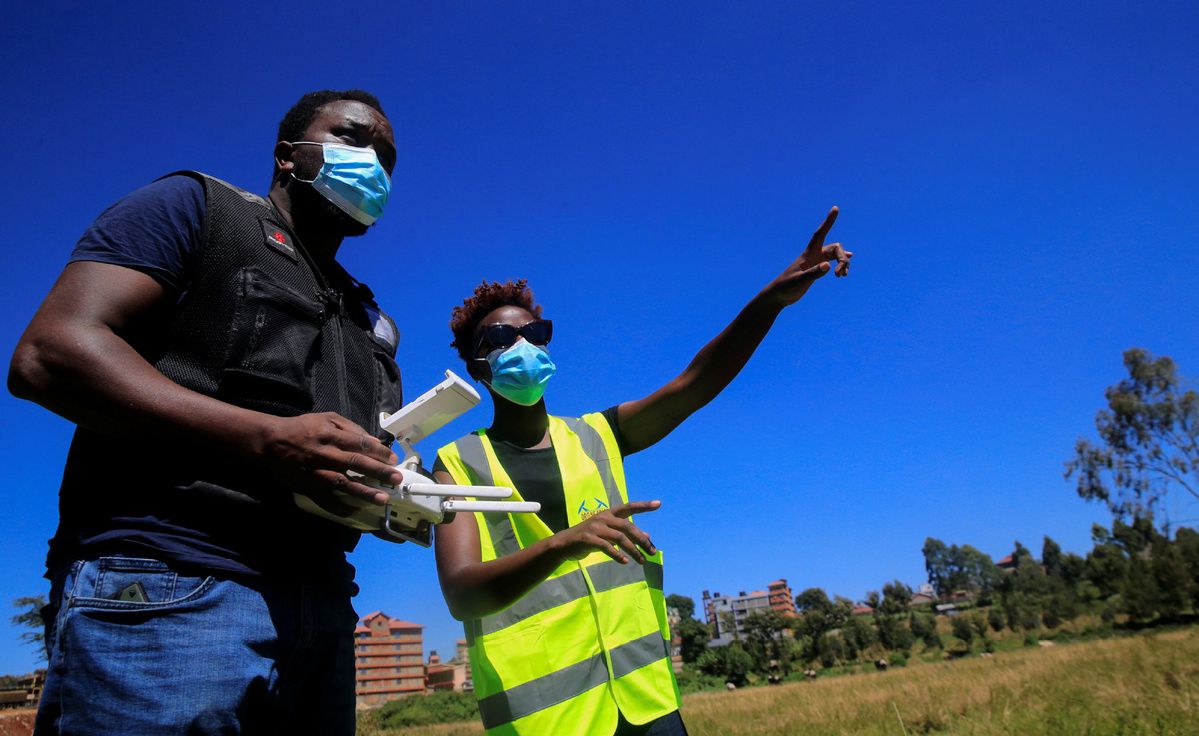 A drone instructor trains a student to operate a drone in Kiambu, Kenya
Hundreds of Kenyan students have returned from China after successfully completing their studies in different fields. The fresh graduates return with both the knowledge and the enthusiasm to play a constructive role in Kenya's development efforts while cementing people-to-people ties between Nairobi and Beijing.
The academic fields in which the graduates were trained include engineering, health sciences, technology, agriculture, education and humanities. Like their contemporaries around the world, many of the graduates braved challenging times as a result of the COVID-19 pandemic to earn their degrees.
Luckily for the Kenyan students in China, the heightened level of government support through universities made it possible for them to complete their studies on schedule. Many of the students also received Chinese COVID-19 vaccines-a result of the strategic decision by Beijing to give foreigners an equal opportunity to be inoculated against the pandemic.
Silas Totolela, who graduated with a master's degree in education curriculum development from Central China Normal University in Wuhan, Hubei province, said that the university's administration provided food, medicine, protective clothing and even counseling services to students.
Beyond the classroom moments, Kenyan students in China also have a unique opportunity to experience the whole of Chinese society. They live with Chinese and go to Chinese restaurants and shopping malls. They undertake internships and practicums in top Chinese industries and craft lifelong friendships with Chinese people in the course of their studies.
It is these softer interaction moments that allow one to fully take in the depth and pace of Chinese development while seeing what has driven the meteoric transformation of Chinese society.
For Totolela, what stood out most was the diversification and effectiveness of the transportation system; social cohesion and stability; and the industriousness of the Chinese people. He saw that while China has the biggest population in the world, people are able to move from one point of a city to another, safely and efficiently.
Human resource development cooperation is an important component of transnational learning and experience sharing. China has been a strong partner for Kenya in personnel training through targeted scholarships and exchange programs.
Since 2015, China has provided around 67,000 training opportunities for Kenya, according to the Chinese embassy in Kenya. In 2019, a total of 2,400 Kenyan students were enrolled in Chinese learning institutions. More Kenyans are seeking higher education opportunities in China, which has become the destination most favored by African students.
Besides the hundreds of Kenyan students moving to China for graduate education, Beijing is also helping more students enroll in local universities through the four Confucius Institutes currently operating in the country.
China and Kenya are jointly implementing the Sino-Africa Joint Research Centre at Jomo Kenyatta University of Agriculture and Technology. The talent cultivation facility, the result of a partnership with the Wuhan Botanical Garden of the Chinese Academy of Sciences, has also allowed more Kenyans to acquire cutting-edge expertise in biodiversity conservation, wildlife protection, the prevention and treatment of desertification, climate change monitoring and modern agriculture.
The partnership to hone Kenyans' technical skills is beneficial to Kenya and China alike. While Nairobi gains in the quality of its human resources, Chinese enterprises in Kenya are given access to a large pool of talent.
People-to-people ties are the lifeblood of international relations. The more that Kenyans are immersed in Chinese culture, and vice versa, the greater the potential for nuanced and productive relations between the two countries.
Although the COVID-19 pandemic has hampered international travel, with some Kenyans who have been admitted to Chinese universities unable to travel, the global health crisis has also ushered in boundless technology-mediated opportunities. Cooperation between China and Kenya on human capacity building should therefore continue unimpeded. (From Chinadaily)