Understanding the molecular basis of species adapting to high altitude is one of the main issues of evolutionary biology. Compared to low-altitude areas, high-altitude areas often have extreme environments, such as low temperature, low oxygen, poor soil nutrition, and strong ultraviolet radiation. The Qinghai Tibetan Plateau (QTP) is the highest and largest plateau in the world and is an ideal laboratory for studying the adaptation and evolution of plants to high-altitude environments.
Saussurea is one of the most species-rich genera in Asteraceae comprising more than 400 species. Saussurea is widely distributed in the northern hemisphere, with the highest diversity in the QTP. The habitats of Saussurea species are complex and diverse, including alpine scree slopes above 5000 m, cold alpine meadows, grasslands and forests. Hence, Saussurea is a good system for studying high-altitude adaption of plants.
The Systematic and Evolution Research Group of Wuhan Botanical Garden conducted a comparative genomics study using transcriptome sequences of five Saussurea species.
Divergence time estimation based on genomic data revealed that Saussurea diversified during the Miocene, a period with extensive tectonic movement and climatic fluctuation on the QTP. Analysis of gene families specific to high-altitude species showed that they were significantly enriched in oxidoreductase activity, pectin catabolism, lipid transport and polysaccharide metabolism. These processes may be related to the adaptation of plants to extremely low temperatures at high altitudes.
Furthermore, study identified hundreds of genes possessing specific traits of adaptive significance, such as membrane stabilization, response to radiation, DNA repair, and organic metabolism, which potentially responsible for Saussurea adaptation to the harsh environments of high altitude.
This research provided reference-level genomic resources for alpine plants, while gaining important insights into how plants adapt to harsh and extreme environments.
The results have been published on an international journal of Plants, under the title of "Transcriptomes of Saussurea (Asteraceae) provide insights into high-altitude adaptation".
Ph.D. student ZHANG Xu is the first author of the paper, and professor WANG Hengchang is the corresponding author. This research is supported by the Second Tibetan Plateau Scientific Expedition and Research program, and the Strategic Priority Research Program of the Chinese Academy of Sciences.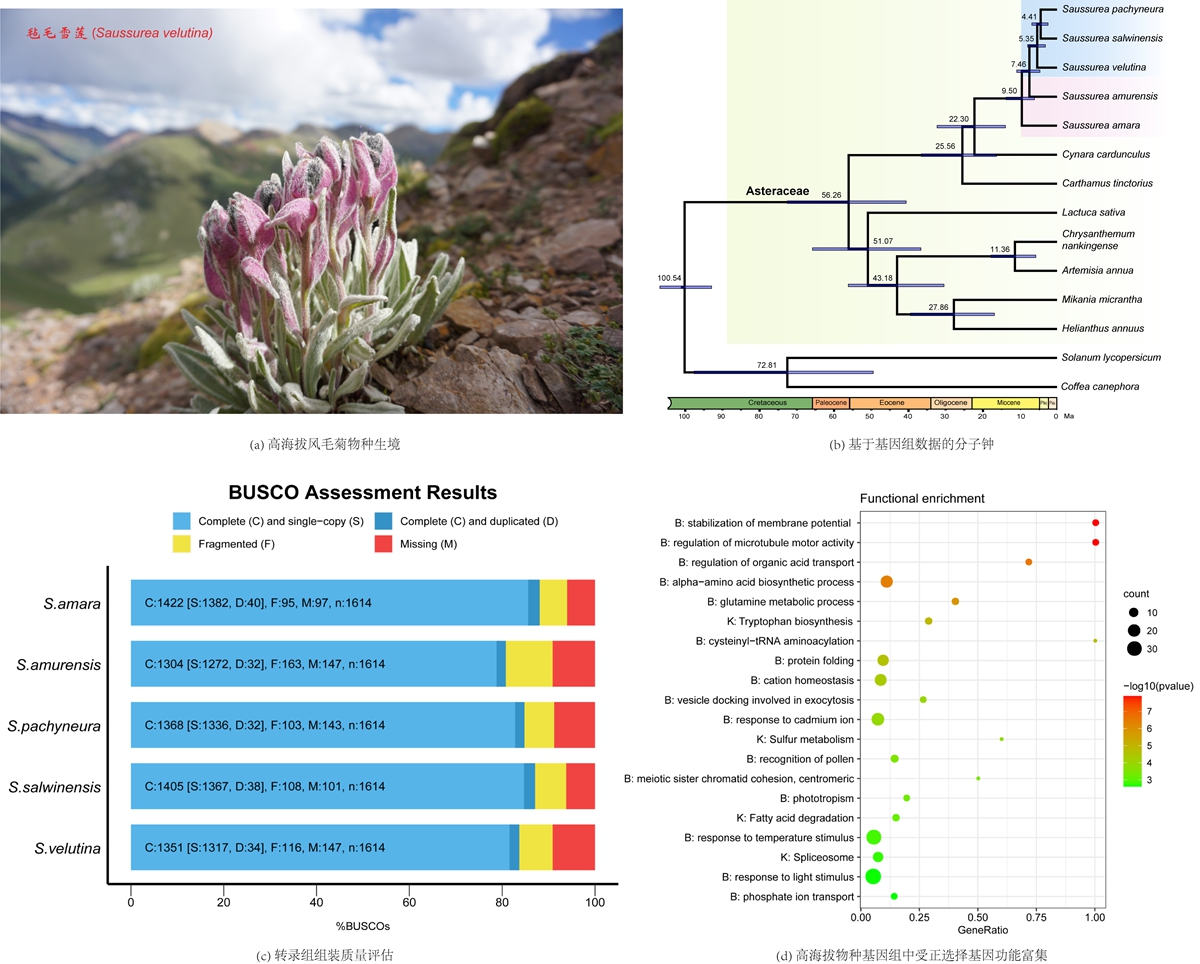 Insights into high-altitude adaptation from transcriptomes of Saussurea (Asteraceae) (Image by WBG)