Low temperature is one of the environmental factors that affect the development of plants and the yield of crops. Ethylene (ETH) is known to positively regulate cold tolerance. However, the role of ETH in transcriptional regulation of grapevine leaves subjected to low temperature stress remains poorly understood. Understanding the transcriptional regulation mechanisms would present a rich genetic resource candidate gene prioritization for breeding climate (cold)-resilient grapes.
Researchers from Wuhan Botanical Garden selected leaves of V. amurensis, a wild grape variety that is extremely cold-tolerant in winter, as experimental material. In this study, changes in the transcriptome and phytohormones of grapevine leaves under low temperature stress were investigated, genes regulated by ETH under low temperature stress were identified, and possible interactions between ETH and other low temperature-induced phytohormones were discussed.
This research shows that two highly enriched transcription factors families, APETALA2/ETHYLENE RESPONSIVE FACTOR (AP2/ERF) and WRKY, exhibit consistent up-regulation in response to cold stress, but inhibited by aminoethoxyvinylglycine (AVG, a inhibitor of ETH synthesis) treatment.
The inhibition of ETH synthesis (using AVG) enables the identification of genes positively and negatively regulated by ETH that participate in a wide range of biological processes, such as, solute transport, protein biosynthesis, phytohormone action, antioxidant and carbohydrate metabolism.
Beyond their potential roles in regulating mangy aspects of cellular metabolism, transcriptone and phytohormone analysis also indicates that ETH may regulate the abscisic acid (ABA) and indole-3-acetic acid (IAA) synthesis-related genes, thus contributing to respective phytohormone accumulation and potential downstream signals.
In conclusion, this work provides new insight into the ETH signaling pathways and ETH-regulated genes under cold stress, but also presents candidate gene resource for breeding cold-resilient grapevines.
Results have been published in the Plant Physiology and Biochemistry entitled "Dissecting the effect of ethylene in the transcriptional regulation of chilling treatment in grapevine leaves". This work was supported by the National Natural Science Foundation of China and Major Program of Technological Innovation in Hubei Province. (Available online 10 March 2023)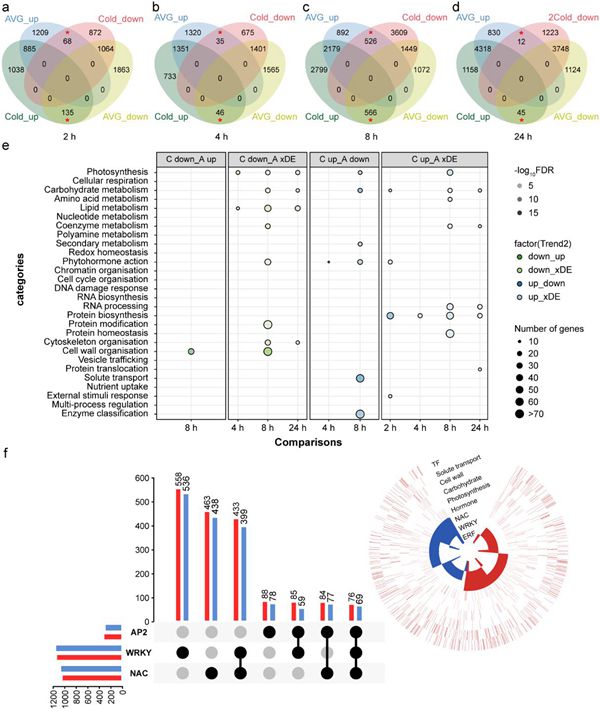 Identification and enrichment analysis of ETH regulated genes under chilling treatment in V. amurensis leaves (Image by WBG)