Ascorbic acid (AsA), also known as vitamin C, is an essential nutrient for human beings due to its great role in a number of physiological functions. However, humans are unable to synthesize ASA, but only take it in from food, especially fruits and vegetables.
Apple, one of the most widely consumed fruits worldwide, provides a good source of AsA for human beings, in turn, the AsA also appears to be associated with the improvement of shelf life in apple. Therefore, enhancing the nutritional value of fruit by increasing AsA content is also becoming a desired goal in apple breeding programmes, however, there are no reports on the evaluation of fruit AsA content in apple germplasm.
A research team led by Prof. HAN Yuepeng from Wuhan Botanical Garden investigated AsA content in mature fruits of 457 apple accessions (428 cultivars worldwide and 29 wild relatives) and analyzed the AsA concentration difference between the cultivated and wild apples.
There was a great variation in fruit AsA concentration among apple germplasm. Wild fruits contained higher level of AsA and greater variation in AsA concentration than cultivated ones, making the wild Malus species useful sources of genes that could be utilized for genetic improvement of fruit AsA content in apple breeding programmes in the future.
Fruit AsA content was positively correlated with malic acid content, but negatively correlated with fruit weight and soluble solid content. The difference of AsA content between the wild and cultivated fruits could be attributed to an indirect consequence of human selection for larger fruit size, less acidity, and increased sweetness during apple domestication. AsA concentration was extremely high in fruit at the juvenile stage, but dramatically decreased at the expanding and mature stages.
The results have been published in Food Chemistry entitled "Variation of ascorbic acid concentration in fruits of cultivated and wild apples". It was supported by grants from the National Natural Science Foundation of China.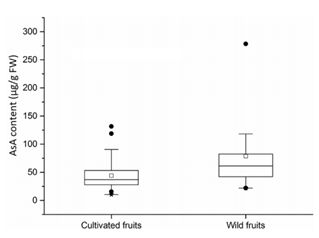 Range and distribution of AsA content in cultivated and wild fruits of apple (Image by HAN's group)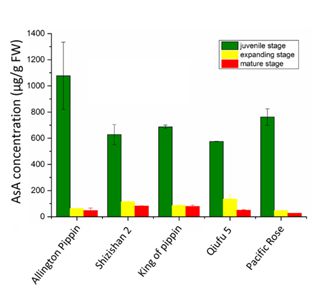 Changes in the AsA content in fruits of different cultivars of apple during fruit development (Image by HAN's group)