The deep soil has become a focus of attention since over 50% of soil organic carbon is stored in subsurface soil horizons. The interactions between soil carbon (C) and nitrogen (N) cycling are important to C balance of terrestrial ecosystems. However, little is known about the interactions between soil C and net N mineralization in deep soil, which complicates the prediction of ecosystem C and N dynamics.
Dr. TIAN Qiuxiang, under the supervision of Prof. LIU Feng from Wuhan Botanical Garden, performed a 150-day laboratory soil incubation experiment to investigate the influence of soil depth and warming on C and net N mineralization and their relationship. The shifts of microbial functional community were detected to verify the role of soil microorganisms in C and N mineralization.
Both C and net N mineralization rates in topsoil was significantly higher than in subsoil. Although the C/N ratios decreased with soil depth, N was still limiting in subsoil as indicated by the none relationship between the mineralized C and N. The net N mineralization in subsoil might be limited by the low content of labile C source (providing energy) and degradable organic N (providing material).
Warming increased both C and net N mineralization rates. Compared to topsoil, subsoil had relatively higher temperature sensitivity of net N mineralization and lower temperature sensitivity of C mineralization. With the increasing of temperature and incubation time, the aromatic fraction in dissolved organic C and inorganic N enriched for all soils. Meanwhile, the microbial activity in using complex substrates increased and microbial activity in using N-containing substrates decreased.
This result suggested although microbial functional community played a central role in soil C and N mineralization, the quality and quantity of soil C and N source could in turn control the shift of microbial communities.
The decoupled relationships between soil C and net N mineralization in deep soil and their differentiated responses to warming at different soil depths highlighted the need for soil C models to capture this effect.
Results were published in Soil Biology & Biochemistry entitled "Decoupled linkage between soil carbon and nitrogen mineralization among soil depths in a subtropical mixed forest". This study was funded by the National Natural Science Foundation of China.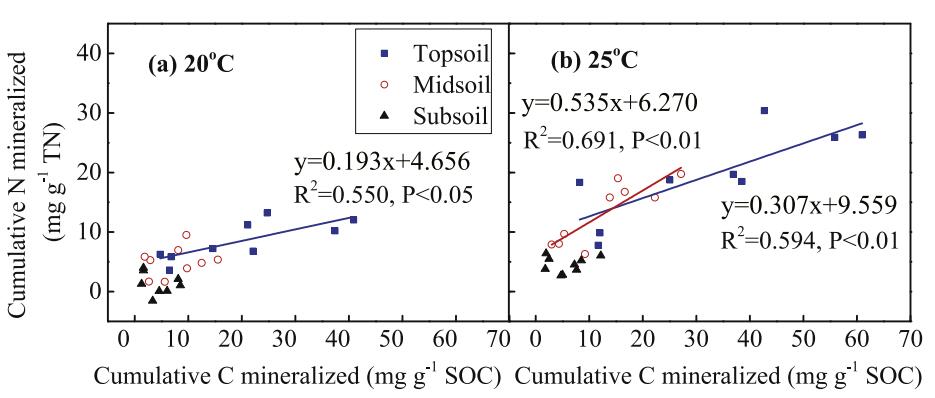 The relationship between soil carbon and nitrogen mineralization among soil depths in a subtropical mixed forest (Image by TIAN Qiuxiang)