Herba epimedii, an important traditional Chinese medicine, is collected from the dried leaves of Epimedium species. Herba epimedii has been traditionally used as kidney tonic and antirheumatic medicinal herb for more than 2000 years, and currently used for preventing and treating sexual dysfunction, osteoporosis, cardiovascular disease and tumor.
It is well demonstrated that the main bioactive components in Epimedium plants are the flavonoid compounds, especially C8-prenylated flavonol glycosides, such as icariin, icaritin and epimedin C. In addition, Epimedium plants are also widely used as ornamental plants in certain western countries, due to the attractive shape and the diverse color of foliage and flower.
Anthocyanins predominantly contribute to the color diversity of flowers. Both anthocyanins and flavonol-derived bioactive components belong to different classes of flavonoid metabolites. The flavonoid biosynthetic pathway is mainly regulated by MYB transcription factor (TF) or bHLH TF at the transcriptional level. Moreover, the different MYB members generally regulate the specific branches of flavonoid biosynthetic pathway. In Epimedium plants, the MYB TFs specifically regulating anthocyanin or flavonol branch have been isolated and identified previously. However, a MYB TF regulating these two pathway in Epimedium plants is still unknown.
Supervised by Prof. WANG Ying, HUANG Wenjun from Wuhan Botanical Garden made a progress to discovery the regulatory mechanism of flavonoid biosynthetic pathway in Epimedium plants. A novel R2R3-MYB TF isolated from E. sagittatum was functionally identified to regulate the flavonoid biosynthetic pathway.
The results indicated that EsMYB9 belonged to the VvMYB5a/b clade, and shared a similar function with VvMYB5a or VvMYB5b regulators. Overexpression of EsMYB9 in tobacco led to increased anthocyanin and flavonol contents through up-regulating most of the flavonol biosynthetic pathway genes. Yeast two-hybrid and dual-luciferase assay indicated that EsMYB9 could interact with bHLH regulatory proteins, and these bHLH proteins were required for enhancing the transcriptional activation ability of EsMYB9 against target gene promoters. However, EsMYB9 was not involved in regulating the synthesis and accumulation of sucrose-induced anthocyanin and flavonol-derived bioactive component in leaves of Epimedium.
These results indicated that EsMYB9 was a novel R2R3-MYB TF, which regulated the flavonoid biosynthetic pathway, but distinctly different with the anthocyanin or flavonol-specific MYB regulators identified previously in Epimedium plants.
This research entitled "Functional Characterization of a Novel R2R3-MYB Transcription Factor Modulating the Flavonoid Biosynthetic Pathway from Epimedium sagittatum" was published in Frontiers in Plant Science. It was supported by the grants from National Natural Science Foundation of China.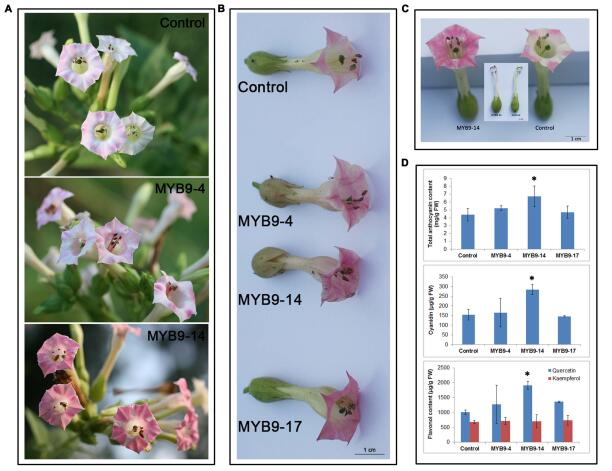 The changes of phenotype and flavonoid content in transgenic tobacco flowers overexpressing EsMYB9 transcription factor from Epimedium sagittatum (Image by HUANG Wenjun)