At the end of 2016, the Sino-Africa Joint Investigation Team, made up of the researchers from Wuhan Botanical Garden, South China Botanical Garden and Shanghai Chen Shan Botanical Garden, conducted a large-scale field investigation in six different counties of Kenya. During this one-month investigation, a special Zehneria in South Nandi Forest attracted the researchers' attention. In addition, more specimens of this Zehneria were collected in another field investigation at July of 2017 for in-depth researches.
Under the guidance of Prof. WANG Qingfeng and Prof. HU Guangwan, WEI Neng and the research group from Sino-Africa Joint Research Center (SAJOREC), CAS, carried out the comprehensive morphological study of this Zehneria. After sufficient literature consultant, specimens examinations and detailed morphological comparisons, this species was finally confirmed to be new to science. The entitled paper, "Zehneria longiflora (Cucurbitaceae), a new species from Kenya", was published at the latest issue of Phytotaxa.
This new species was named as Zehneria longiflora G.W.Hu & Q.F.Wang, based on the characters of long receptacle-tube and filaments. Z. longiflora is most similar to Z. oligosperma, but differs by its 6.0–7.5 mm long receptacle-tube, stamens that are inserted in the middle of the receptacle-tube, the up to 3.5 mm long filaments, subumbelliform or racemiform 8- to 30-flowered male inflorescence that is sessile or with a 2–15 mm long peduncule, and the sessile umbelliform female inflorescence.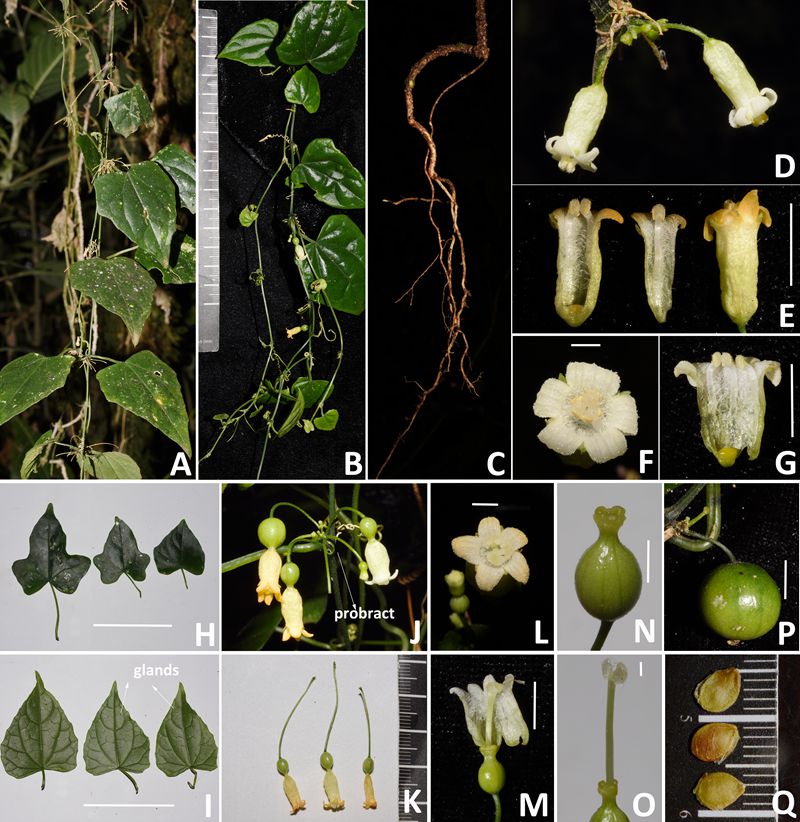 Zehneria longiflora G.W.Hu & Q.F.Wang (Image by WEI Neng)