The atmospheric concentration of CO2 has increased significantly as a result of the anthropogenic activities. Land use change, such as deforestation, can lead to a rapid loss of soil carbon (C), accelerating CO2 emission from soil to the atmosphere. However, its effect on CO2 emission remains a widely debated topic due to large variability in soil CO2 emission caused by specific site conditions.
Under the supervision of Prof. CHENG Xiaoli, ZHANG Qian and WU Junjun from Wuhan Botanical Garden made a field experiment in Danjiangkou Reservoir area which experiences the land use change from croplands to afforestation over a span of 30 years. This group explored the seasonal variation in co2 emission and its δ13C-CO2 signatures following agriculture land use change, and assessed the correlations between biotic and abiotic factors and CO2 emission and δ13C-CO2 signatures.
The soil CO2 emission in woodland and shrubland was significantly higher than that in cropland, reflecting that afforestation enhanced soil respiration due to an increase in the availability of soil C and a decrease in fluctuation of soil moisture and soil temperature. The soil CO2 flux showed a typical seasonal pattern which was higher in the summer than other seasons due to higher temperature in the summer stimulating microbial decomposition thus enhancing soil respiration. Whereas, the δ13C-CO2 was negatively related to soil temperature and positively correlated with the δ13C of microbial biomass due to its strongly relationship with the isotope signature of plant litter inputs.
This research was financially supported by the National Natural Science Foundation of China, and the "Strategic Priority Research Program B" of the Chinese Academy of Sciences. Results have been published in Soil & Tillage Research entitled " Agricultural land use change impacts soil CO2 emission and its 13C-isotopic signature in central China ".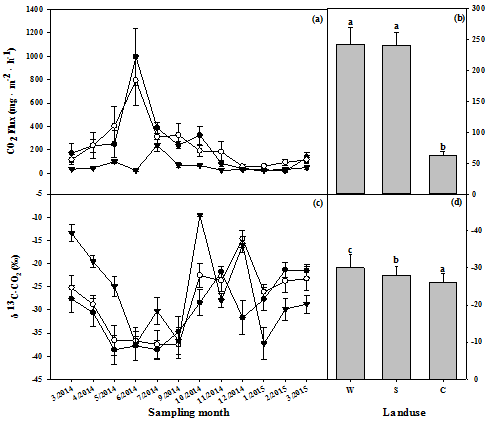 The monthly variations (a, c) and annual averages (b, d) of soil CO2 flux and its carbon isotope signature within three land use types (Image by CHENG's group)