In June of 2017, the authors carried out a field investigation in Lingui County, Guangxi, China. During this investigation, a special Lobelia with distinct corolla structure attracted authors' attention. In the adjacent area, another population of this Lobelia was also found. The authors collected enough specimens for further identification and transplanted some living materials to the greenhouse of Wuhan Botanical Garden for careful observation.
Supervised by Prof. WANG Qingfeng and Prof. HU Guangwan, PhD student LI Zhizhong and WEI Neng carried out the study of comprehensive morphology and molecular phylogeny upon this Lobelia. After sufficient literature consultant, specimens examinations, detailed morphological comparisons, as well as robust phylogenetic support, this species was finally confirmed to be new to science. The entitled paper, "Lobelia hongiana (Campanulaceae), a new species from Guangxi, China", was published in the latest issue of Phytokeys.
Species epithet, 'hongiana', is in honour of Prof. HONG Deyuan who has made a significant contribution to taxonomy study of Campanulaceae. L. hongiana is most similar to L. loochooensis and L. chinensis, but differs by its elliptic-obovate or oblanceolate leaves, usually sinuate-dentate margin; hypanthium 2.5–3 mm long, greenish-carmine; calyx lobes 5 or 6, shorter than hypanthium; corolla purplish-white, yellowish-green blotches at the base of lower lobes; glabrous filaments; broadly obconic capsule, 7–8 mm long; flowering time from May to July.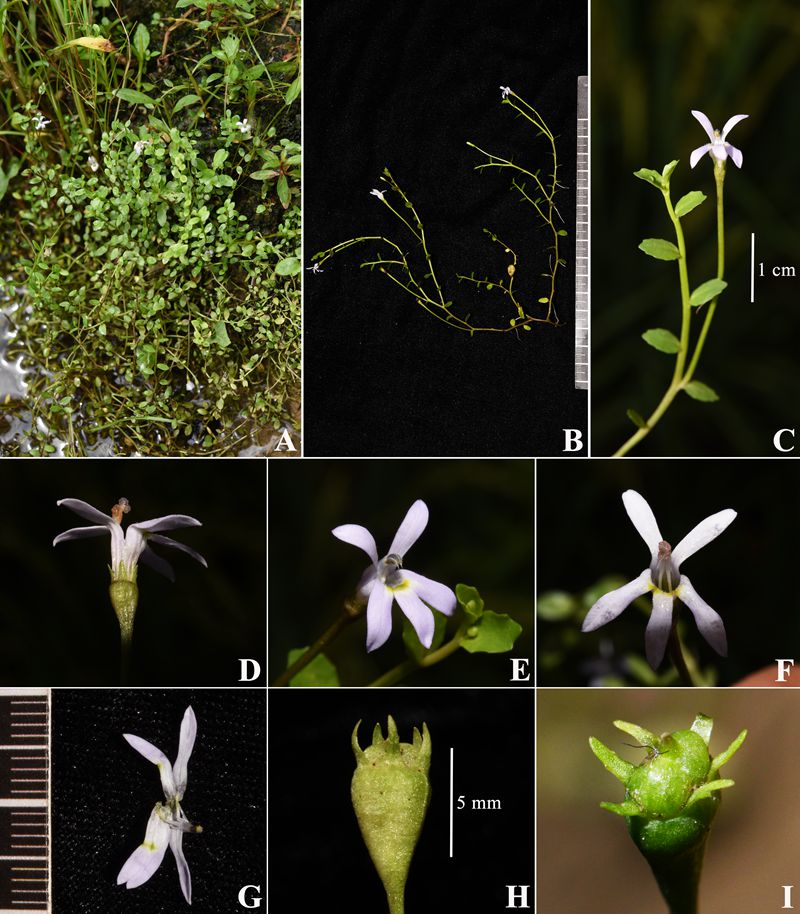 The plate of Lobelia hongiana (Image by WANG's group)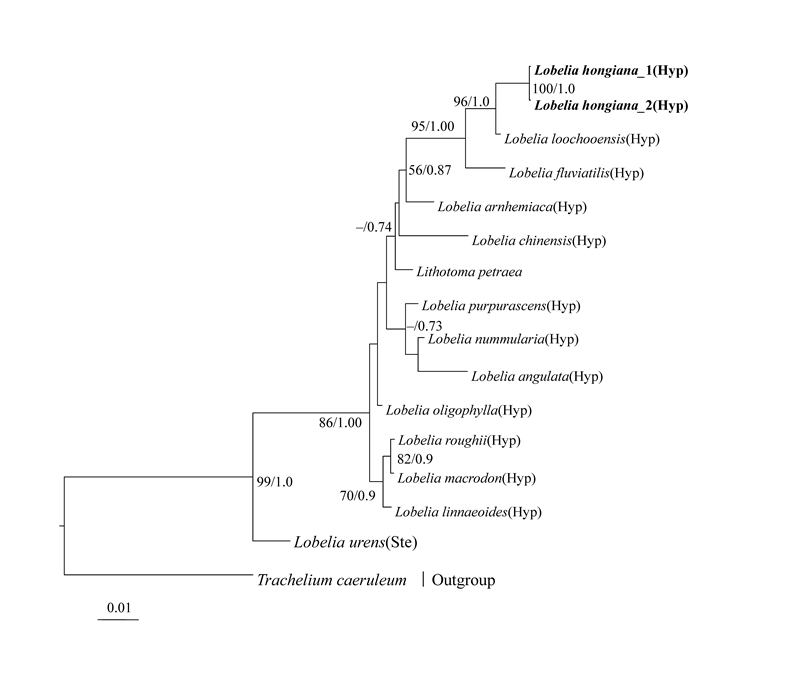 The Phylogeny tree of Lobelia based on combined molecular data of atpB, rbcL and ITS (Image by WANG's group)