Plant species with wide distribution generally exhibit different degrees of phenotypic variation resulting from their adaptive differentiation to diverse environments. Many studies have demonstrated that intraspecific variability can improve plants' performance and facilitate their adaptability to local environmental gradients. Therefore, exploring leaf and seed trait variations and their driving factors will help us to understand species' adaptations to heterogeneous environments and to improve our prediction of plants' responses to rapidly changing climates, which can ultimately provide valuable information for species' management and conservation.
Supervised by Prof. JIANG Mingxi and Prof. WEI Xinzeng, Dr. MENG Hongjie and WU Hao, a PhD candidate from Wuhan Botanical Garden, collected leaf and seed samples of Euptelea pleiospermum across its natural distribution in China. They measured 13 leaf traits and nine seed traits, and analyzed their geographic patterns and environmental drivers.
Results revealed substantial variations in leaf and seed traits of this species among populations. Temperature was the strongest predictor of leaf traits variation, and mean annual temperature and soil phosphorus were the dominate drivers of seed traits variation. They demonstrated that intraspecific trait variation reflected E. pleiospermum's response to the local environment.
This study was financially supported by the National Natural Science Foundation of China and State Key Laboratory of Vegetation and Environmental Change. Results have been published in Plant Biology and Forest Ecology and Management entitled "Geographical variation and the role of climate in leaf traits of a relict tree species across its distribution in China" and "Geographic patterns and environmental drivers of seed traits of a relict tree species" respectively.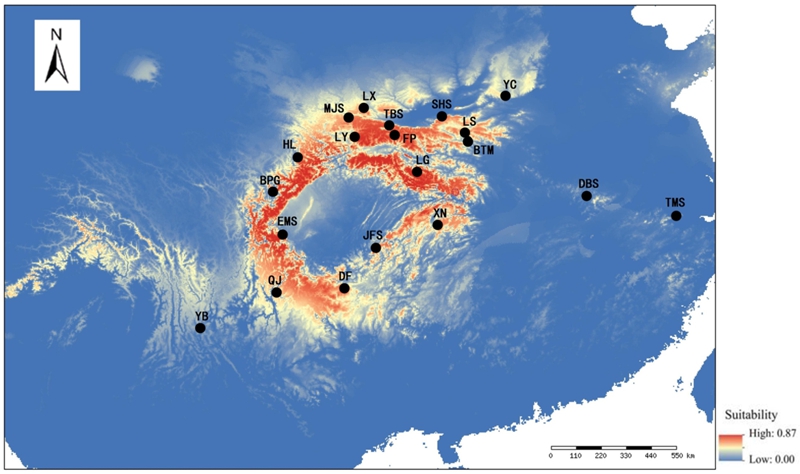 Map of the sites of Euptelea pleiospermum collection. Red areas represent the most suitable habitat, and thus local dominance of Euptelea pleiospermum (Image by MENG Hongjie)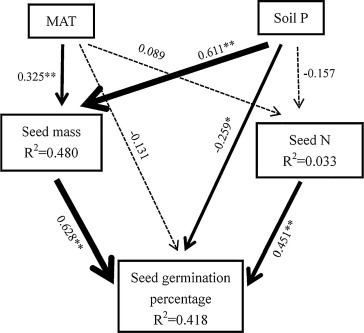 Path analysis diagram depicting the direct and indirect effects of climatic and edaphic variables on seed germination percentage of Euptelea pleiospermum from 18 populations across its geographic distribution in China (Image by WU Hao)