The Sino-Africa Joint Investigation Team, consisted of researchers from Wuhan Botanical Garden, Institution of Botany and Shanghai Chenshan Botanical Garden, conducted a large-scale field investigation in Madagascar in September 2017. A special Gastrodia in Montagne D' Ambre National Park caught the researchers' eyes.
Cooperated with Prof. HUANG Weichang from Shanghai Chenshan Botanical Garden, Prof. WANG Qingfeng and Prof. HU Guangwan carried out the comprehensive morphological study of this Gastrodia. After sufficient literature consultant, specimen examinations and detailed morphological comparisons, this species was finally confirmed to be new to science. The entitled paper, "Gastrodia elatoides (Orchidaceae: Epidendroideae: Gastrodieae), a new holomycoheterotrophic orchid from Madagascar", was published at the latest issue of Phytotaxa.
This new species was named as Gastrodia elatoides W. C. Huang, G.W. Hu & Q. F. Wang, based on the great similarity of characters to East Asian species, Gastrodia elata. Gastrodia elatoides is most similar to Gastrodia elata, but differs by its triangular-ovate to triangular-lanceolate obviously trinerved bracts with the base surrounding the pedicel, apical margin of lip entire, epichile strongly trilobed, hypochile pruinose and ovary surface verrucose.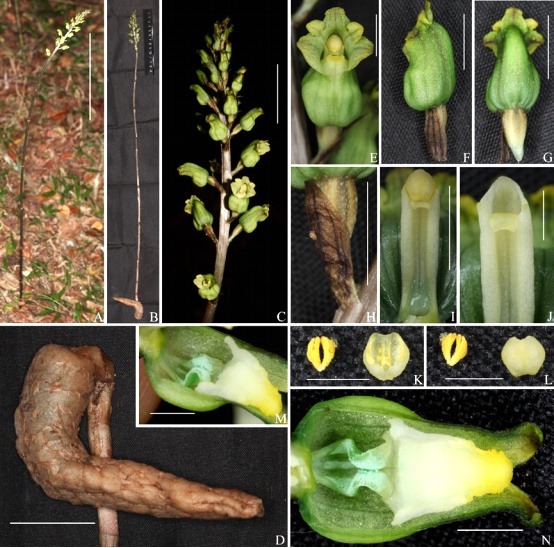 Gastrodia elatoides W.C.Huang, G.W.Hu & Q.F.Wang (Image by Sino-Africa Joint Investigation Team)