Microplastics are a group of small plastic particles with a size of less than 5 mm, which ubiquitously distribute in aquatic environment. Due to the tiny size, microplastics can be easily ingested by aquatic animals, which consequently cause mechanical damage, physiological diseases or fatality to relevant biota. The occurrence and associated environmental hazards of microplastics pollution have raised increasing concern. Up to date, more efforts regarding microplastics have been focused on the marine environment. Although freshwaters are potential sources and transport pathways of plastic debris to the oceans, knowledge regarding the presence of microplastics in freshwater systems is still comparatively limited, especially in China, the world's largest producer of plastics.
Under the guidance of Prof. WANG Jun, WANG Wenfeng from Wuhan Botanical Garden investigated the levels of microplastics in Dongting Lake and Hong Lake, the two important lakes in the middle reaches of the Yangtze River.
Microplastics were ubiquitously detected in Dongting Lake and Hong Lake, with the concentration of 900–2800 and 1250–4650 n/m3 respectively. In terms of morphological characteristics of microplastics in these two lakes, plastic fibers occupied more than 60% in proportion and colored particles occupied more than 70%. Polyethylene (PE) and polypropylene (PP) were the dominant components of microplastics analyzed. This study is helpful to bridge the knowledge gaps to achieve a better understanding of the microplastics pollution in inland freshwater environments.
Results were published in Science of the Total Environment entitled "Microplastics in surface waters of Dongting Lake and Hong Lake, China". It was supported in part by Funding Project of Sino-Africa Joint Research Center, Chinese Academy of Sciences, the Hundred Talents Program of the Chinese Academy of Sciences and Natural Science Foundation of Hubei Province of China.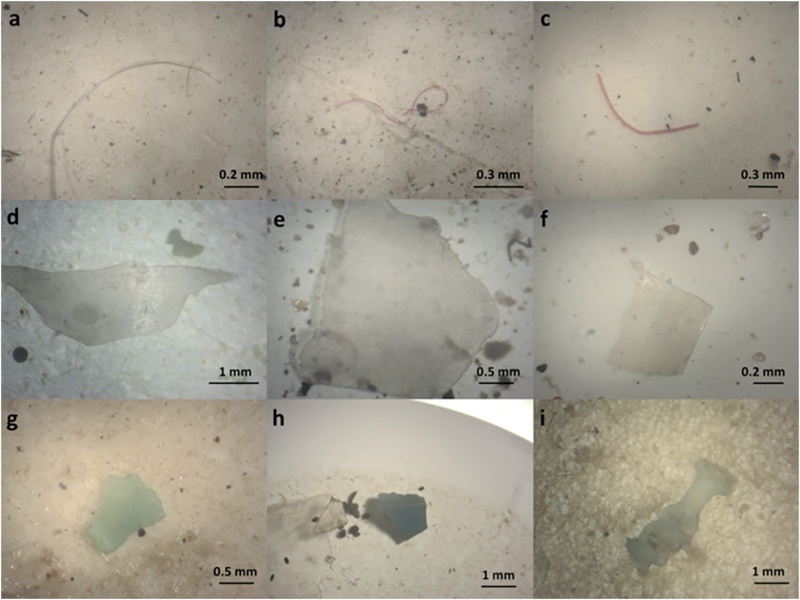 Photographs of microplastics under the stereomicroscope: fiber (a, b, c), film (d, e, f), and granule (g, h, i). (Image by WANG Wenfeng)