In the vast Taita Hill ranges, amidst the spreading arid lands of Tsavo lies the Taita Hills forest. A unique fragmented afromontane forest secludes only at the hilltops. These forests have been under study by Sino-Africa Joint Investigation Team which was composed of the scientists from the Sino-Africa Joint Research Center (SAJOREC) and National Museums of Kenya (NMK) since 2015 in a joint effort to document the Flora of Kenya.
In the years 2016 & 2017, a team of researchers from Wuhan Botanical Garden and the National Museums of Kenya embarked on a field investigation in Ngangao forest, one of the 13 fragments of the Taita Hills. It was in this fragment that a unique Zehneria species was collected. After carrying out a comprehensive study of the morphological features and a literature review on Zehneria species, it is confirmed that this species is new to science. In light of this, the paper "Zehneria tuberifera (Cucurbitaceae), a new species from Taita Hills, Kenya" is published in the latest issue of Phytotaxa.
The name Zehneria tuberifera G.W.Hu & Q.F.Wang owes to the vines' tuberous rhizome which is unique in that the most similar species to it (i.e.) Z. oligosperma and Z. longiflora have fibrous roots. Other unique distinguishing features of this species are its sub-coriaceous leaf blades, scattered bristles along the midrib on the adaxial surface of its young leaf blades, a shorter receptacle tube, a trilobed disk in the male flower, solitary or 2-clustered female flowers, and up-to-20-flowered and subumbelliform male inflorescences.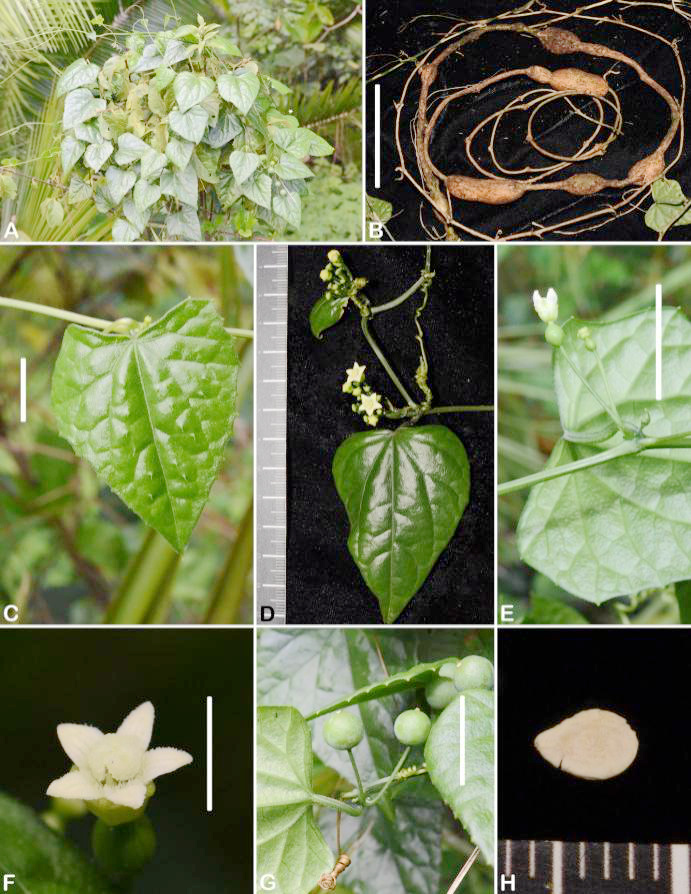 Zehneria tuberifera G.W.Hu & Q.F.Wang (Image by Sino-Africa Joint Investigation Team)