Researchers from Wuhan Botanical Garden recently established a new approach to control fungal parasites in oleaginous microalga. The new method successfully prevented fungal parasitic infections without negatively affecting biomass and lipid contents both in pilot- and industrial-scales. This method provides a new pathway for solving the global and technical fungal contamination problem in mass cultivation of microalgae and has wide future applications.
In previous studies, freshwater species Graesiella sp. WBG-1 had been established as a promising microalga for lipid production. In open raceway ponds, however, this microalgal strain was frequently infected by fungal parasites. Fortunately, after many rounds of screening, Prof. LI Yeguang and his colleagues from Wuhan Botanical Garden screened out a commercial detergent which inhibited effectively fungus contaminants without damaging Graesiella sp. WBG-1.
Preliminary experiments showed that its main ingredients were surfactants. In further study, four surfactants were studied as parasite-control agents for the first time. They found that sodium dodecylbenzene sulfonate (SDBS) had no adverse influence on the final biomass, lipid contents, and fatty acid profiles of Graesiella sp. WBG-1.
Treatment of the Graesiella sp. WBG-1 cultures with 10 mg -1 SDBS at both pilot-scale and industrial-scale, effectively prevented fungal parasite infections without negatively affecting biomass and lipid contents. Furthermore, the lipid contents of Graesiella sp. WBG-1 reached >30%, both in 200 m2 and 1000 m2 open raceway ponds.
The practical SDBS approach demonstrated here can be inexpensively applied on pilot- (0.7 USD for a 40,000 L reactor) and industrial- (3.6 USD for a 200,000 L reactor) scales. Therefore, SDBS may be a desirable fungal parasite control agent in industrial scale cultivation of Graesiella sp. WBG-1 and, possibly, other oleaginous microalga.
This effective and low cost approach advanced the prospect of using oleaginous microalgae as an economically viable strategy for the biodiesel production.
This research was financially supported by the China Petrochemical Corporation and National Natural Science Foundation of China. Results have been published in Algal Research entitled "Surfactants as fungal parasite control agents in oleaginous microalga, Graesiella sp. WBG-1, mass culture".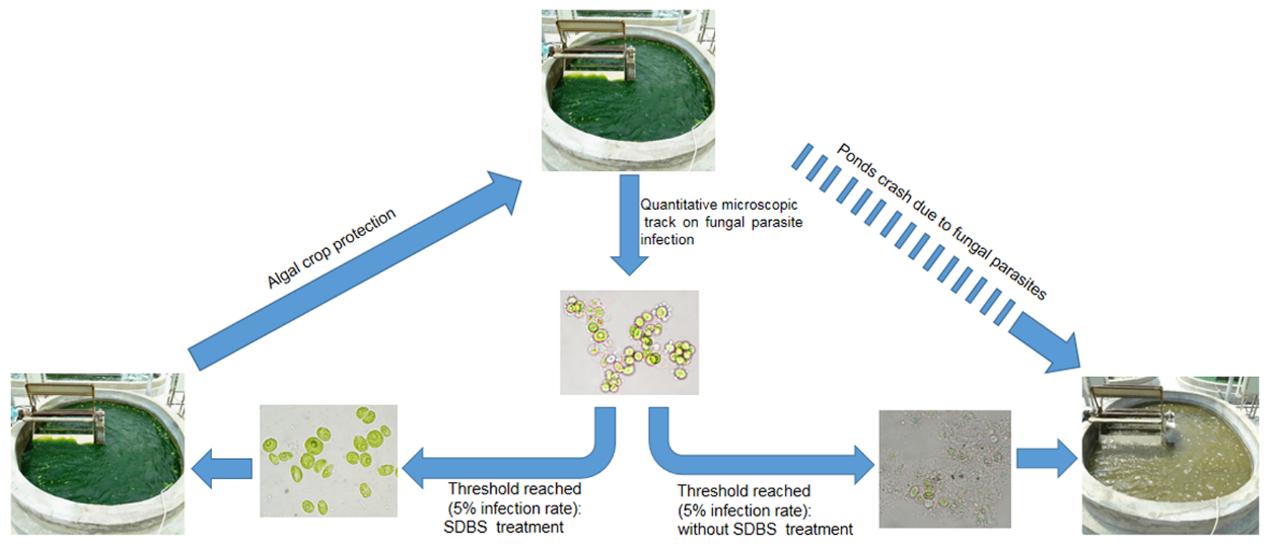 Graphical abstract of SDBS as a fungal parasite control agent in oleaginous microalga (Image by DING Yi)