As a typical secondary metabolite of cyanobacteria, the earthy-musty smelling geosmin is considered one of the problematic compounds responsible for many water episodes in freshwater supplies.
The ability to synthesize geosmin is widely distributed in various groups of cyanobacteria. Though the biochemical mechanisms of geosmin synthase gene (geo) in several cyanobacteria species have been elucidated in recent years, the diversity and evolutionary lineage of geo in cyanobacteria is unknown.
The research groups led by Prof. LI Yeguang from Wuhan Botanical Garden and Prof. LI Renhui from Institute of Hydrobiology explored the genetic diversity, phylogeny, and evolution of geo in cyanobacteria, on the basis of 16 geosmin-producing cyanobacterial species representing 11 genera in Nostocales and Oscillatoriales.
Results revealed that geo was highly conserved in the examined cyanobacterial species, with DNA sequence identities over 0.72. Phylogenetic reconstruction and codon bias analysis of geo in geosmin-producing microorganisms suggested that cyanobacterial geo formed a monophyletic branch and shared a common ancestor with actinomycetes and myxobacteria.
The evolutionary analysis of cyanobacterial geo sequences showed that no site with ω > 1 was observed. Further studies on global selection pressures revealed that the global ω value of cyanobacterial geo was 0.125, which indicating strong purifying selection of this gene.
It is very interesting that Phylogenetic topology comparison of geo with housekeeping genes 16S rDNA and rpoC in cyanobacteria revealed significantly incongruent topologies.This finding clearly indicated geo was acquired by cyanobacteria and then a mixture of co-evolution and HGT (horizontal gene transfer).
These findings enhance the fundamental understanding of cyanobacterial geo in diversity and evolution and highlight the importance of geo and its product geosmin in cyanobacteria.
This work was funded by the National Natural Science Foundation of China and National Key Research and Development Program of China. Relevant research results have been published in Science of the Total Environment entitled "The diversity, origin, and evolutionary analysis of geosmin synthase gene in cyanobacteria".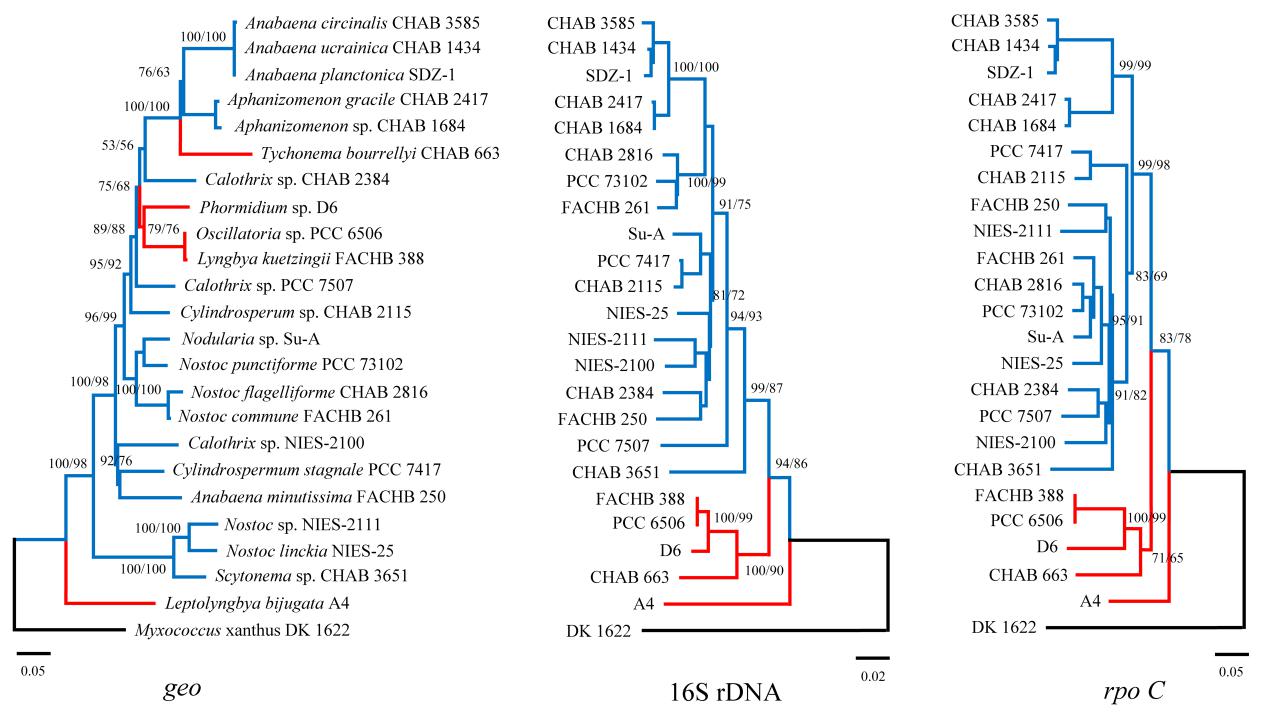 Phylogenetic trees based on cyanobacterial geo (2154 bp), 16S rDNA (1233 bp) and rpo C (905 bp) (Image by WANG Zhongjie)