Cuticular wax is the first barrier of vascular plants to protect against environmental stresses. In Arabidopsis thaliana, cuticular wax is a mixture of very-long-chain (VLC) fatty acids and derived compounds including alkanes, aldehydes, ketones, primary and secondary alcohols and so on. Alkanes represent more than 50% of total wax on Arabidopsis stems and affect plant responses to biotic and abiotic stresses.
Arabidopsis cer16 is a wax-deficient mutant generated by fast neutron treatment. The amounts of alkanes are significantly reduced in cer16, suggesting that CER16 plays an important role in alkane biosynthesis and regulation. However, the associated CER16 gene remained unknown till now.
YANG Xianpeng, the postdoc from Key Laboratory of Plant Germplasm Enhancement and Specialty Agriculture, Wuhan Botanical Garden, reported the positional cloning of CER16 and its role in Arabidopsis alkane biosynthesis and regulation.
Map-based cloning with genetic analysis revealed that the cer16 phenotype was caused by complete loss of AT5G44150, encoding a protein with no known domains or motifs.
Comparative transcriptomic analysis revealed that transcripts of CER3, previously shown to play a principal role in alkane production, were drastically reduced in the cer16 mutants. Transgenic CER3 expression was silenced in cer16 background, and levels of small interfering RNAs targeting CER3 were significantly increased. Additionally, mutating two major components of the RNA-silencing machinery (RDR1 or RDR6) in a cer16 genetic background restored CER3 transcript levels to wild-type levels, with the stems restored to wild-type glaucousness.
These results suggest that CER16 deficiency induces post-transcriptional gene silencing of both endogenous and exogenous expression of CER3.
This research was funded by National Natural Science Foundation of China. Results were published on Plant Physiology entitled "CER16 Inhibits Post-Transcriptional Gene Silencing of CER3 to Regulate Alkane Biosynthesis".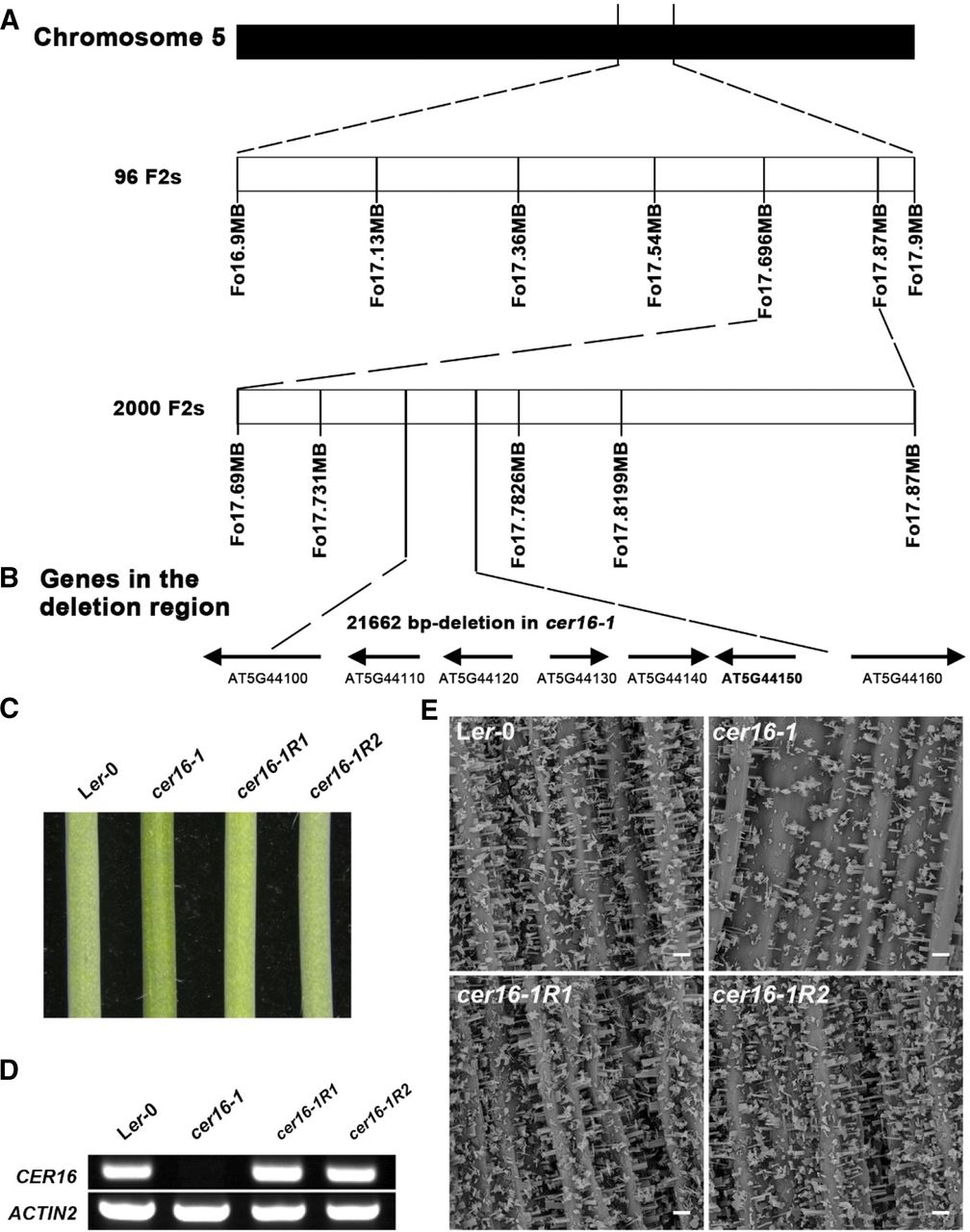 Positional cloning of CER16 and complementation of cer16-1 mutant (Image by YANG Xianpeng)