Microbial infection seriously threatens human health and life quality, meanwhile brings great challenges to modern medical research. Natural products, with rich resources, complex chemical structures and high biocompatibility, are important for research and development of new drugs or lead compounds, therefore, new drug cues obtained from natural products are generally of better quality and bio-friendly. During the activity screening of natural products, the traditional counting or optical methods have more or less interferences and uncertainties, it is desirable to develop new methods for the assessment of drug bioactivity based on modern analytical techniques.
The team led by Prof. GUO Mingquan of Plant Chemical Biology Research Group at Wuhan Botanical Garden established a new method to determine the antimicrobial activity of drug compounds or crude extracts from natural products by measuring the amount of metabolic carbon dioxide(CO2) produced in the drug-bacteria incubation system.
The amount of cells was reflected by measuring CO2 produced via microbial metabolism by Headspace Gas Chromatography(HS-GC), and the experimental principle of this method was verified.
Compared with other standard method in use, this method is proven to have good accuracy and precision in this work. It is simple to operate and suitable for the determination of antibacterial activity of drugs, especially for natural products.
Compared to those traditional methods, this method avoids the error caused by the characteristics of the testing sample itself, such as volatility, solubility and color in the determination of the minimum inhibitory concentration, and can be easily carried out in any microbiology Laboratory.
This work was supported by Major Project for Special Technology Innovation of Hubei Province and the European Regional Development Fund - Project ENOCH. Relevant research results have been published in Journal of Pharmaceutical and Biomedical Analysis entitled "Headspace gas chromatographic method for antimicrobial screening: minimum inhibitory concentration determination".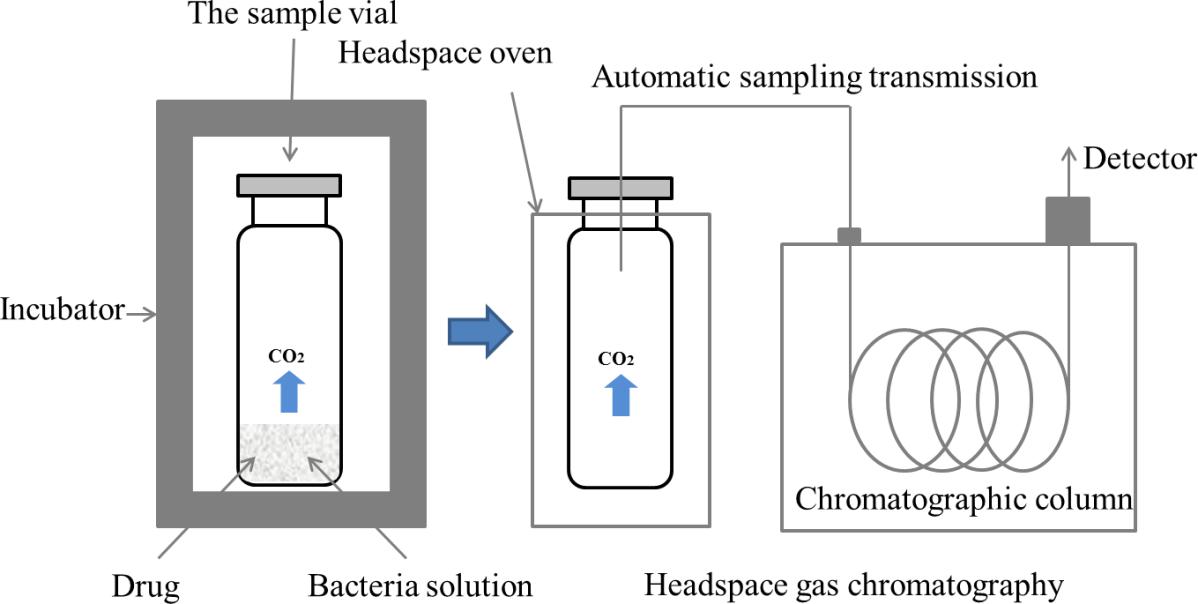 Method detection principle and process (Image by WBG)