Environmental variations along elevational gradients have increasingly been used to assess the impacts of biotic and abiotic factors on plant physiological and ecological strategies. Plants produce secondary metabolites to adapt to these environments. Because biotic and abiotic factors may interact to shape defense in plants, plant chemical responses to elevational gradients are complex, it remains unknown how plants allocate resources to the production of different secondary chemicals across elevational gradients. Thus, understanding how plants regulate multiple types of secondary chemicals along elevational gradients is critical for elucidating the physiological and ecological strategies of plants in response to varying biotic and/or abiotic environments.
To examine how Chinese tallow tree (Triadica sebifera) allocates resources to different secondary chemicals in response to varying environments across elevational gradients, supervised by Prof.DING Jianqing, XIAO Li,who graduated from Wuhan Botanical Garden, conducted field surveys of herbivores and their damages on tallow trees and performed chemical (tannins and flavonoids) analysis of both damaged and undamaged leaves sampled from trees growing on a mountain from 100 to 1000 m above sea level.
The odds of leaf damage (chewing or scarring) decreased with elevation. With increasing elevation, flavonoid concentrations increased in undamaged leaves but decreased in damaged leaves, with quercitrin contributing most strongly to this pattern, likely as results of plant responding to changing biotic or abiotic stresses along elevational gradients. Tannin concentrations did not vary with elevation, so undamaged leaves had relatively lower tannin to flavonoid ratios at high elevation than at low elevation.
These findings reveal variation in herbivory and contrasting trends in plant secondary metabolism along an elevation gradient and highlight the importance of simultaneously considering multiple types of secondary chemicals in plant physiological and ecological strategies.
This work was supported by National Key Research and Development Program and National Science Foundation (NSF)-China and published on SCI journal Journal of Plant Ecology titled with "Tallow tree allocates contrasting secondary chemicals in response to varying environments along elevational gradients".
Herbivory along the elevational gradient (Image by WBG)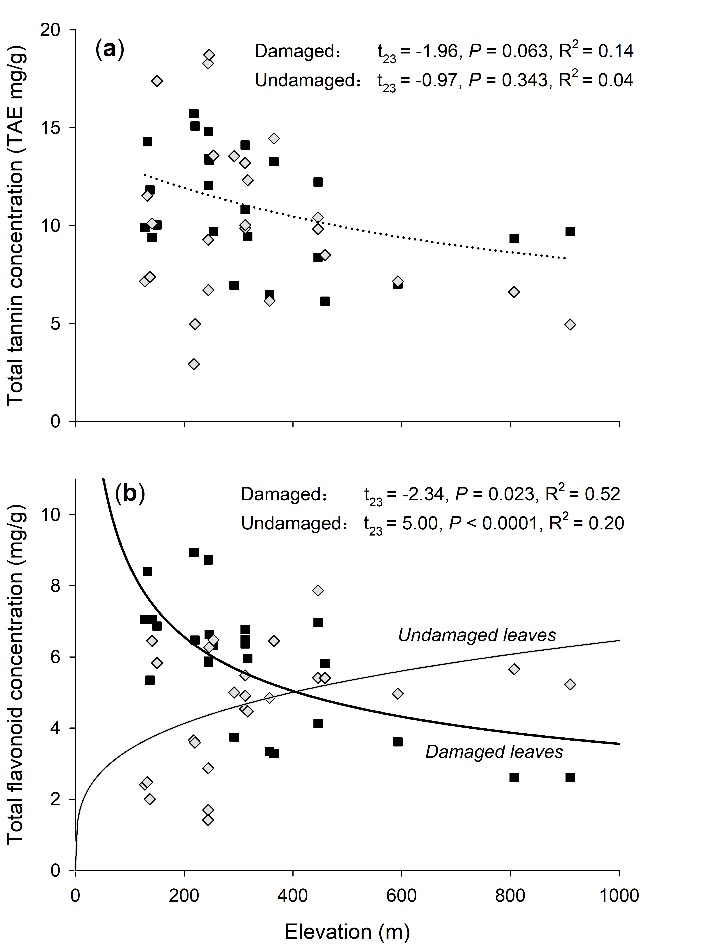 Plant secondary chemicals along elevations (Image by WBG)