The wine regions in northern China belong to continental climate with low-temperature and drought in winter. Grapevine varieties have different resistance, especially the winter buds. The resistant varieties could survive during cold acclimation due to complex metabolic mechanism of their winter buds. However, how to withstand the cold winter about buds has not been reported.
In order to reveal the resistance mechanism of grapevines with different resistance during cold acclimation in the field, researchers from Plant Biodiversity and Evolution Research Group, Key Laboratory of Plant Germplasm Innovation and Characteristic Agriculture at Wuhan Botanical Garden, selected the winter buds from wild grape specie: Vitis amurensis (Va) and Eurasian variety: Vitis vinifera (Vv) in October and December of 2016. These buds were used to proteomics analysis by iTRAQ labeled HPLC-MS / Ms and experimental design by qRT-PCR.
A total of 6639 proteins were detected, and the difference analysis showed that 382 differentially abundant proteins (DAPs) were up-regulated and 524 DAPs were down-regulated. Compared with Vv, Va had less differential proteins. And the DAPs from regulation and energy metabolism pathways were significantly changed both in two grapevines. The enzymes of phenylpropanoid biosynthesis pathway were significantly increased in Va, but decreased in Vv. While more DAPs in Vv were enriched in energy metabolism and biological processes, among them, DAPs in glutathione metabolic pathway were significantly up-regulated, while DAPs in various secondary metabolic pathways were significantly down-regulated, which was significantly different from the metabolic mechanism in Va.
Phenylalanine ammonia lyase (PAL), the key protein of phenylalanine biosynthesis, was significantly up-regulated in Va, while the proteins of this pathway were decreased in Vv, indicating that the difference of phenylalanine biosynthesis pathway may be one of the reason for the resistance difference between two grape varieties. Quantitative analysis of 12 genes by QRT PCR showed that transcriptome and proteome data were consistent. The results provide a strong basis for the future research of grape resistance.
The above researches have been published in the international academic journal Scientia Horticure entitled "Proteomic variation in Vitis amurensis and V. vinifera buds during cold acclimation". Two students, Valerie F. masocha and Li Qingyun, are the first authors of this paper. This project was supported by the national key R & D Program.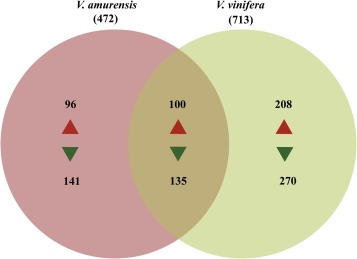 Venn diagram shows the DAPs in V. amurensis and V. vinifera during cold acclimation (Image by WBG)