River dam has changed the vegetation types, soil microenvironment and hydrological characteristics of the riparian zone and directly affect the processes and functions of the ecosystem, and ultimately changed the cycle of soil carbon and nitrogen. How flooding affects soil enzyme activity and soil organic carbon dynamics in the water level fluctuation zone of the reservoir has always been a widely debated topic.
Supervised by Prof. CHENG Xiaoli, ZHANG Dandan, a doctor of Wuhan Botanical Garden investigated soil in different fractions and soil C-hydrolyzing enzyme activities in six sites (Changshou, Fuling, Zhongxian, Wanzhou, Badong and Zigui) with four different elevations (low <145 m, permanently inundation area without plant; middle, 145–160 m, longer flooding duration with revegetation; high, 160–175 m, shorter flooding duration with revegetation; and control,>175 m, no-flooding area with original plant) at two soil depths (0–10 cm and 10–30 cm) in riparian zones of the Three Gorges Reservoir, China.
Flooding significantly changed the soil enzyme activities and soil carbon pool dynamics. Totally, Anti-seasonal flooding induced significant decline in the labile carbon compared with control, but significantly increased the recalcitrant carbon from low to high elevation. There was no significant difference of SOC content between the elevations.
Flooding caused a significant decrease in C-hydrolyzing enzyme activities, especially in permanently inundation area areas, and the C-hydrolyzing enzyme activities was significantly the lowest. Soil available substrates significantly influenced soil C-hydrolyzing enzyme activities. Whereas, the four C-hydrolyzing enzyme activities and the specific enzyme activities were corresponded well with the changing trend of labial carbon content.
Overall, our results revealed different patterns and controls of soil C and N dynamics in response to flooding along riparian zones at regional scale.
This research was financially supported by the Strategic Priority Research Program B of the Chinese Academy of Sciences and the National Natural Science Foundation of China.
Results have been published in Scientific Reports entitled "Linkages between soil organic carbon fractions and carbon-hydrolyzing enzyme activities across riparian zones in the three Gorges of china".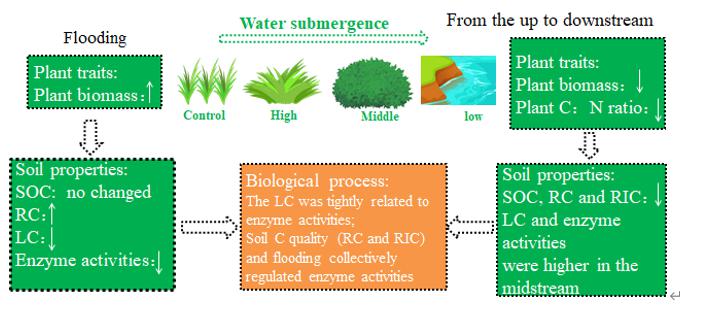 Flooding impacted ecosystem C and N dynamics across riparian zones in the Three Gorges of China (Image by WBG)