Recently, Cynanchum hubeiense Wen, B. Xu, B. S. Xia & J. y. Shen, a rare plant endemic to Hubei Province, was named by Wuhan Botanical Garden and Xishuangbanna Tropical Botanical Garden. The paper was published in Taiwania entitled "Cynanchum hubeiense (Apocynaceae), a new species from Hubei, China".
During a field investigation in Luotian County, Hubei Province, researchers found a unknown species, of which the flowers have a bowl-shaped corona and five internal appendages.
This species is similar to C. callialatum Buch.-Ham. ex Wight, C. decipiens Schneid., C. brevipedunculatum J.Y.Shen and C. longipedunculatum M.G.Gilbert & P.T.Li, but distinguished with several morphological features: slightly angulate follicles, shorter peduncle, corolla white to reddish, corolla lobes ovate, planar, stems without two leaf like stipules per node, and stems sparsely puberulent.
After literature review and comprehensive morphological character analysis, researchers confirm it is a new species and name it as "Cynanchum hubeiense Wen, B. Xu, B. S. Xia & J. y. Shen". Since this species is currently only known from the Hubei Province, China, the specific epithet "hubeiense" is chosen. The Chinese name is "湖北豹藥藤" (hú běi bào yào téng), which means the vine is poisonous.
Researchers surveyed the surrounding forests carefully, only one population with less than 10 individuals was found in Bodaofeng Mountain, Luotian County, Hubei. Due to the limited population size and restricted distribution of C. hubeiense, it is proposed that the species should be designated as Critically Endangered (CR; criteria B1ab (i, v) + 2ab (i, v), D), according to IUCN (2012).
The discovery of C. hubeiense is of great significance to the systematics and taxonomy of Cynanchum and it has theoretical guidance for the protection of this rare plant.
This study was supported by the Conservation and Application of National Strategic Tropical Plant Resources: theory and practice fund, and Science & Technology Basic Resources Investigation Program of China: Survey and Germplasm Conservation of Plant Species with Extremely Small Population in South-west China.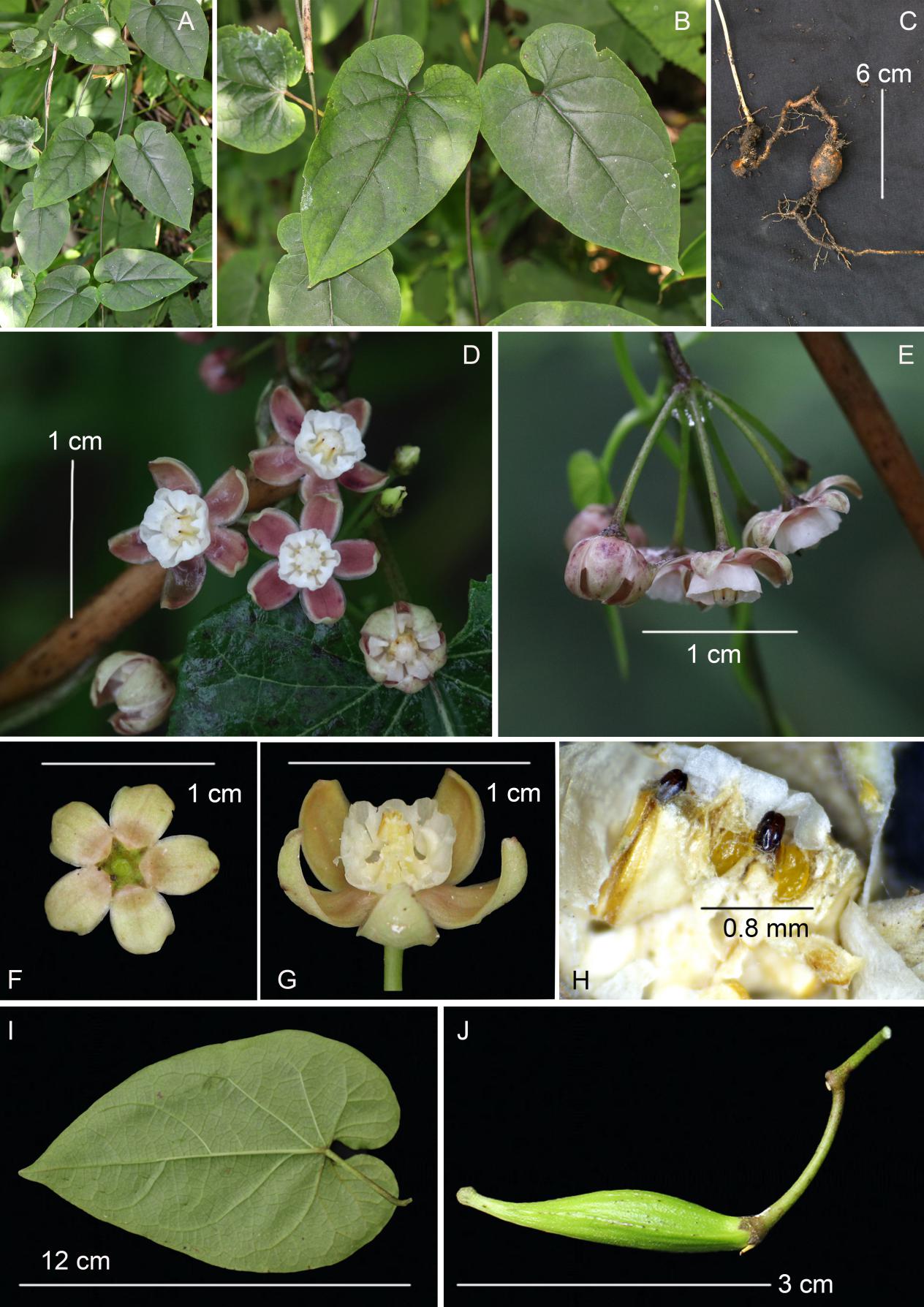 Cynanchum hubeiense A. Trailing plant in habit. B. Phyllotaxy: opposite leaves. C. Root tuber. D. Inflorescence in ventral view. E. Sciadioidal (pseudo-umbellate) inflorescence in lateral view showing pedicels. F. Flower in dorsal view. G. Flower in lateral view. H. Anthers on gynostegial column showing two corpuscles of the pollinaria. I. Leaf, abaxial surface. J. Young follicle. Photos: Wen-Bin Xu, Yu-Xing Chen and Jian-Yong Shen.