Balanophora J.R. Forst. & G. Forst. is a perennial succulent holoparasitic genus in the family Balanophoraceae and consists of 23 accepted species. Balanophora species are among the most unusual flowering plants, with yellow, orange, or crimson inflorescences emerging from warty tubers linked to their host plants. They have significantly reduced morphologies, such as tiny flowers and rough leaves and are found parasitizing on the roots of ever-blooming trees with conspicuous leaves, particularly in the family Urticaceae, Fagaceae, Ericaceae, and Leguminosae. These plants completely depend on their host plants for acquiring nutrients.
Species in this genus have wide use especially in Asia for treating and managing various conditions such as hemorrhoids, stomachaches, hemoptysis, syphilis, gonorrhoea, wounds, coughs, bleeding of the alimentary tract and other conditions. Despite its widespread usage in traditional medicine, there is no review work on the genus' traditional applications, phytochemistry, and pharmacology.
Researchers from Wuhan Botanical Garden systematically assess the traditional uses, phytochemistry, and pharmacology of the genus Balanophora, discuss its medicinal potential, modern scientific research, and the relationship between them, and make some recommendations to encourage further development and utilization of this genus.
The study reviewed research articles related to this genus published between 1936 to April 2023 obtaining a total of 159 published papers. Other databases used to gather information on this genus were Sci-Finder, Google Scholar, and PubMed. Research also employed China National Knowledge Infrastructure (CNKI) database (https://www.cnki.net/) to gather Chinese literature. World Flora Online (WFO, http://www.worldfloraonline.org/) was used in verifying the botanical names of this genus, while ChemBioDraw Ultra Version 22.2 software was employed to illustrate the chemical structures.
Nine species(B. harlandii, B. japonica, B. polyandra, B. fungosa, B. fungosa subsp. indica, B. laxiflora, B. abbreviata, B. tobiracola, and B. involucrata) have been reported to be used as traditional medicine in different parts of Asia. In total, 159 chemical compounds have been isolated of this genus, including tannins, flavonoids, sterols, lignans, chalcones, terpenes, and phenylpropanoids. Among them, tannins, lignans, terpenoids, chalcones and phenolic acids contribute to the pharmacological effects of this genus. These compounds and extracts from the species of this genus have been reported to have diverse pharmacological activities including anti-inflammatory, anti-oxidant, hypoglycemic activity, cytotoxicity, anti-microbial, melanin synthesis etc.
The genus Balanophora has promising prospects as a potential candidate for drug discovery for treating several diseases. Therefore, more detailed research studies are required, toxicological studies both in vivo and in vitro and the mode of action before clinical trials are need to be conducted.
The review paper entitled "The genus Balanophora J. R. Forst. & G. Forst. – its use in traditional medicine, phytochemistry, and pharmacology: A review" was published in the Journal of Ethnopharmacology. This work was supported by grants from the National Natural Science Foundation of China, National Science & Technology Fundamental Resources Investigation Program of China, The Alliance of International Science Organizations, and Sino-Africa Joint Research Center, CAS.
Kenyan student Elizabeth Syowai Mutinda is the first author. Professor HU Guangwan is the corresponding author. Several students from the group also participate in the study.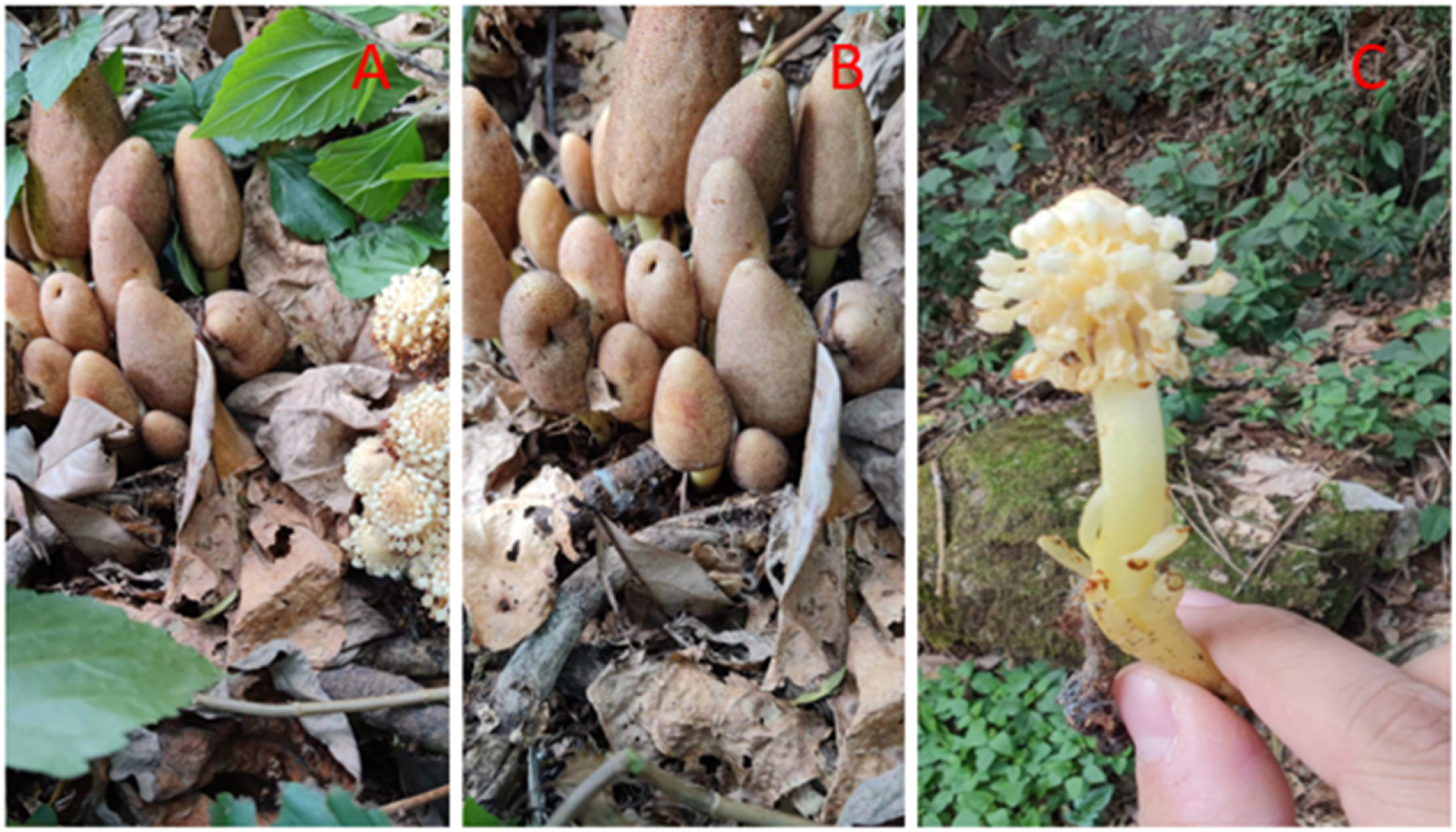 Balanophora harlandii: A) male and female inflorescences; B) female inflorescence; C) male inflorescence (Credits: DONG Xiang)